Disposable protective apparel has been widely used in the healthcare, industrial, and construction sectors. These protective apparels protect from particles, dust, heat, molecules, vapors, allergens, radiation, and other health hazards and need to be disposed of after a single use.
The use of disposable protective apparel is crucial in the healthcare sector and has become even more essential since the outbreak of the COVID-19 pandemic.
The global pandemic, which necessitated the use of protective apparel, led to a shortage in the supply of protective apparel. With its usage becoming a norm at workplaces and homes, disposable protective apparel's production and supply boosted.
Needless to say, there has been a constant surge in the demand and consumption of disposable protective apparel, such as masks, coveralls, aprons, gloves, gowns, suits, respirators, scrubs, and face shields.
Government regulations and safety rules have been imposed to guarantee the protection and safety of workers and employees. As a result, disposable protective apparel is expected to be in high demand even in the coming years.
This article will further explore the future opportunities for growth in the disposable protective apparel market.
Requirement of Disposable Protective Apparel in Workplaces
Workplaces in different industries, such as automotive, pharmaceutical, chemicals, and oil and gas, are high-risk environments for workers.
The harmful gases and the liquid and solid particulates increase health hazards, compromising the safety of the workers. In protecting the workers from direct contact and contamination from these particulates, disposable protective apparels become imperative.
The health of the workforce is equally essential for the growth of the economy as a profitable business is. Good physical health boosts workers' productivity, leading to the achievement of occupational goals.
Furthermore, the guidelines issued by the Occupational Safety and Health Administration (OSHA), which call for the use of disposable protective apparel in a workplace setup, include:
• Protective apparels reduce workplace injuries.
• Their use brings down the workers' compensation claims that become an economic burden for the employer.
• It further boosts workers' productivity.
• Safety guidelines can help implement an effective workforce according to a standard workflow.
Due to COVID-19, it's in the healthcare industry that we find the maximum number of consumers of protective apparel.
The disposable protective apparel has been effective in protecting front-line workers from catching the virus; additionally, it shields healthcare workers and their patients from getting high-consequence infectious diseases (HCIDs), infected blood, fluids, and pathogens.
Since it's a single-use product, it mitigates the risk of catching viruses and bacteria from others. However, it is important to note that its efficacy depends on its proper disposal.
Growing Popularity of Smart Disposable Protective Apparel
Smart innovations in the disposable protective apparel market have been enhancing the productivity and safety of workers.
Integration of artificial intelligence and machine learning for producing modern disposable protective apparel has improved the overall quality and sustainability of the products.
Recent developments in clothing, such as wearable sensors in protective apparel, alert the consumer in a dangerous situation. The sensors can detect chemicals, heat, sound, and UV radiation.
This smart wearable technology is being applied to workers in the oil industry to help them detect gas leaks and prevent casualties.
For example, a Canada-based company, Alpha Pro Tech, Ltd., launched the Aqua Trak shoe cover in March 2022, which has slip-resistance and non-skid qualities.
As the disposable protective apparel market has been witnessing competition from cheaper products, market players are strategizing and strengthening the quality standards of the market products.
Smart disposable apparel is made from raw materials with qualities such as:
• Resistance against flame and heat
• Resistance against wear and tear
• Ultra-lightweight, providing effective mobility
• High breathability
• High tensile strength
• Waterproof ability
With these market developments, the demand for disposable protective apparel is anticipated to increase during the forecast period 2022-2031.
As per the report by BIS Research, the global disposable protective apparel market was valued at $2.41 billion in 2021, and it is expected to grow with a CAGR of 6.1% and reach $4.35 billion by 2031.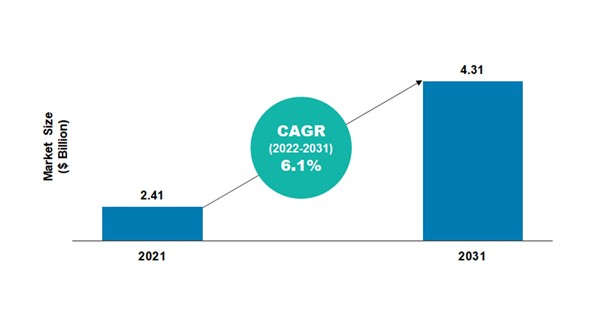 Click here to download the free sample report.
With new channels of sales and preferences for e-commerce, along with presiding pandemic conditions, the disposable protective apparel market is expected to expand further.
Sustainable Alternatives with Effective Recycling Processes
As stated earlier, the global pandemic in 2020 led to a surge in the production and consumption of single-use protective clothing; this also caused environmental damage, which can only be tackled by adopting sustainable and biodegradable options.
The use of anti-microbial agents in the production of textiles of disposable protective apparel has proven to be effective for the long durability of the products.
These textiles are biodegradable and reduce the carbon footprint associated with disposable protective clothing.
Anti-microbial agents decompose the textile into simpler substances preventing toxic chemicals from entering the environment.
Natural biopolymers derived from plants or animals, being renewable, may serve as environment-friendly bioactive textiles.
Some of the natural biopolymers used for sustainability are:
• Chitosan
• Cyclodextrin
• Sericin
• Alginate
Further, the integration of new fabric manufacturing techniques, such as electro-spinning and addictive manufacturing, can be put to use to make protective clothing more comfortable and efficacious.
With the development of effective recycling processes for single-use disposable products, the disposable protective apparel market is expected to register significant future growth.
Conclusion
The COVID-19 pandemic has changed the perspective of consumers and industry experts. The use of disposable protective apparel has become essential in high-risk environments related to workspaces.
Proper awareness of occupational hazards has encouraged technological advancements and innovations in the development of disposable protective apparel, which is further expected to drive market growth.
Interested to know more about the growing technologies in your industry vertical? Get the latest market studies and insights from BIS Research. Connect with us at hello@bis.research.com to learn more.