With an increasing focus on low-carbon and ecological technology, water electrolysis has gained prominence globally. Market players are now adopting water electrolysis technology due to its zero-carbon emission principle as well as the reusability of water as feedstock.
Earlier, water electrolysis technology could not be adopted to its full potential due to obstacles such as high investment costs, high maintenance costs, and limited availability of renewable energy.
However, recent trends offer huge growth potential for adopting innovative water electrolysis technologies.
According to the International Energy Agency (IEA), as businesses and governments look for renewable and low-emission energy sources, the world's energy consumption is expected to rise by 25% to 30% by 2040.
The IEA predicted that the creation of hydrogen from water electrolysis could stop the atmospheric emissions of 830 million tons of CO2 each year, which is why hydrogen is being referred to as the fuel of the future.
The market for water electrolysis is expanding as a result of rising demand for applications such as green methanol, green ammonia, and hydrogen fuel cell cars.
Improvements in older techniques, such as alkaline electrolysis and proton exchange membrane, and the development of new technologies, such as solid oxide electrolytic cell (SOEC) and anion exchange membrane (AEM), have brought significant changes to the global market of water electrolysis.
Some of the resulting factors will be a potential decrease in the cost of green hydrogen production and an increase in the supply chain, eventually resulting in increased sustainable energy production.
This article outlines how technological advancements are changing the global landscape of the water electrolysis market and what space it holds in the future.
Advanced Technologies in the Water Electrolysis Market
The market for water electrolysis is expected to grow continuously during the forecast period 2022-2031, owing to the increasing demand for sustainable energy sources, green hydrogen and green ammonia, and government investment in sustainable technologies.
Moreover, growing investment in renewable energy sources and demand for energy storage technologies is also expected to contribute toward the growth of the water electrolysis market during the forecast period.
As per a report by BIS Research, the water electrolysis market was valued at $0.359 billion in 2021 and is expected to reach $7.178 billion by 2031, growing at a CAGR of 35.4% during the forecast period 2022-2031.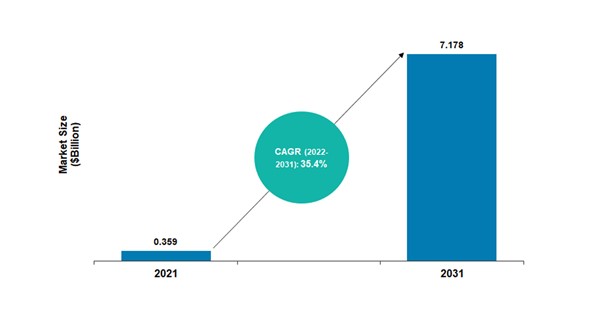 To get more information and data, download this free sample report.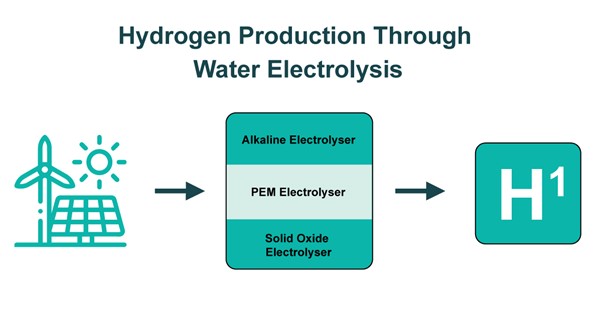 Other significant developments in the water electrolysis industry are:
An anion exchange membrane (AEM) electrolyzer, a sophisticated membrane electrolyzer, was created with a small design, a large production capacity, high efficiency, and stability. It also extends to static power applications. One of the few businesses in the world currently offering an AEM electrolyzer for commercial use is Enapter, a succeeding energy technology company based in Pisa, Italy.
Similarly, Evolve Hydrogen, a New York-based company, has created a cutting-edge water electrolysis system based on electro-conductive polymers that can generate hydrogen from natural water sources such as groundwater, seawater, tap water, and others.
With these technological advancements, the three main types of water electrolysis technologies (currently being commercialized) can be enhanced. These technologies are:
• alkaline electrolysis
• polymer exchange membrane electrolysis
• solid oxide electrolysis
Alkaline Water Electrolysis (AWE)
The alkaline water electrolysis or alkaline electrolyzer is one of the most extensively used electrolysis technologies in the world as it is a robust technology for producing green hydrogen up to the megawatt scale.
Anode and cathode electrodes are the major components of a typical alkaline electrolyzer unit. These electrodes are submerged in a highly concentrated aqueous alkaline electrolyte solution that contains 20-30% potassium hydroxide (KOH).
Due to their low cost, excellent efficiency, and widespread commercial availability, low-cost steel, steel with a nickel alloy coating, and asbestos diaphragm are typically utilized as electrode materials.
Electrodes with thin water-permeable diaphragms, when used in zero-gap or quasi-zero gap configuration, allow easy separation of hydrogen and oxygen in gaseous form upon reaction with hydroxide ions.
Compared with other electrolyzers, alkaline electrolyzers come with the lowest installation costs, as well as their advanced versions are based on new polymer-based membrane concepts.
Anion exchange membranes (AEM) constructed of polymers with anionic conductivity are being developed to replace the asbestos diaphragm in alkaline electrolysis as a new approach.
New developments and advanced technologies are expected to drive the growth of the alkaline electrolysis segment in the future landscape.
Proton Exchange Membrane (PEM) Electrolysis
On an industrial scale, proton exchange membrane (PEM) electrolysis is essential as a sustainable source of high-purity hydrogen for use in chemical processes and energy storage.
Anodes and cathodes in PEM electrolyzers are typically made of iridium oxide and platinum, respectively.
Due to the low pH of the electrolyte, the high active metal surface area of platinum electrodes, and the higher safety provided by the PEM electrolyzer due to the absence of any caustic electrolyte, the kinetics of the hydrogen evolution reaction (HER) in PEM electrolysis are faster than those in alkaline electrolysis.
Specialized and rare Earth materials such as iridium and platinum are required in PEM to sustain harsh corrosive pH conditions and high voltages.
In the future, PEM water electrolysis might offer a viable option for the environment-friendly production of pure green hydrogen; as a result, there will likely be a rise in demand for PEM water electrolyzers.
Solid Oxide Electrolysis or Solid Oxide Electrolyzer Cell (SOEC)
The solid oxide electrolyzer cell (SOEC), which operates over a wide temperature range and uses high-performing electrodes, has predominantly been developed as a reliable and effective device for the production of hydrogen.
Since solid oxide electrolyzer cells work at temperatures between 700°C and 1000°C, non-precious and affordable metals like zirconium and nickel can be used as catalysts.
The solid oxide electrolyzer cell process incorporates extra heat to ensure that SOEC systems are more efficient than other water electrolysis technologies in the market.
Though in the nascent stage, SOEC has proved its efficiency as several market-leading companies like Toshiba and Haldor Topsoe, and others are developing this technique and producing the technologies required for its purpose.
Conclusion
All the aforementioned technologies will play a major role in changing the future scenario of the water electrolysis market. The incorporation of polymer membranes, AEM, PEM, and SOEC can change the future scenario of the water electrolysis market significantly.
The growth of these advanced technologies has a double benefit for the industries as green hydrogen costs will decrease, leading to an increase in sustainable energy. The market players will see a significant growth rate in the water electrolysis sector.
Interested to know more about the growing technologies in your industry vertical? Get the latest market studies and insights from BIS Research. Connect with us at hello@bis.research.com to learn more.