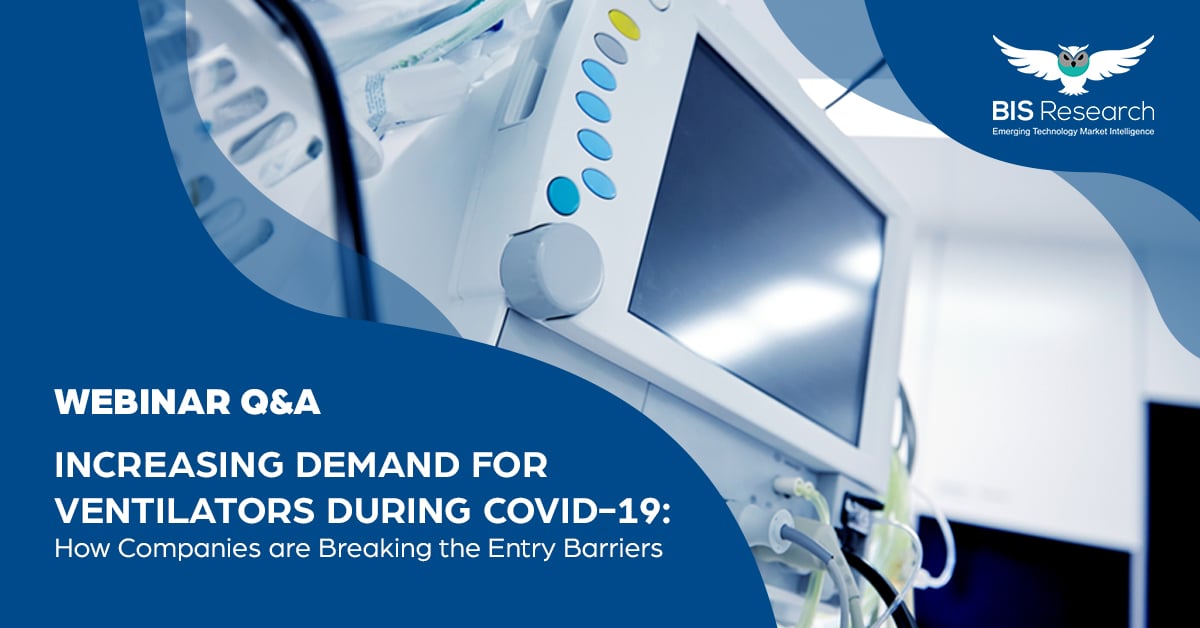 BIS Research conducted a webinar on the requirement of ventilators during the coronavirus outbreak and how several new companies are entering this market by breaking the barriers that previously existed, on Thursday, April 09, 2020. During the webinar, significant insights were shared on the current landscapes such as possible challenges that the new entrants can phase, and how owing to technological disruptions, non-healthcare companies are able to enter the market.
During the webinar, several questions were raised by the participants, and live responses were shared by the speakers for many of questions. The responses for the rest of the questions, that were posted but could not be addressed live, have been addressed and presented here:
What is the certification that a newly designed ventilator undergoes?
Ventilators are very complex medical equipment and require regulatory oversight and numerous standards and certifications. The ventilator business is subject to a large amount of government regulation in the U.S., Europe, and Asia-Pacific. Ventilators are a Class 2b device in the EU, and Class II devices in the U.S., which require CE approval and FDA 510K authorization, respectively.
Class II devices are medium-to-high risk equipment and require clinical trials before they can be placed on the commercial market. In order to gain a 510K authorization or CE marking, developers must also carry out, and provide proof of, extensive quality assurance tests and examinations to ensure the devices conform to regulatory guidelines.
In addition to regulatory approval, the manufacturer is also required to obtain a number of standards and certification for good manufacturing practice, design, process, quality, material (medical grade), and performance. Generally, medical device developers must meet the requirements of the International Organization for Standardization (ISO) 13485 certification for quality management systems and the International Electrotechnical Commission (IEC) 60601-1:2005 standards for product safety and effectiveness for electrical medical equipment.
Additionally, international standards specify requirements for the development, validation, and routine control of different ventilators. For example, ISO 80601-2-12:2020 focuses on the basic safety and essential performance of critical care ventilators. The basic regulation within the EU is council directive 93/42 of the European Economic Community (EEC) from 1993, commonly known as the medical device directive. This directive defines essential requirements that are now used as the basis for CE marking of medical devices within the EU.
How is the certification process expected to impact the availability of ventilators?
One of the biggest obstacles that the companies are facing today is the lengthy time frame associated with producing ventilator (Class II devices) from scratch, and the impracticalities of carrying out clinical trials under current conditions. Even with the relaxation in regulatory guidelines and certification, the companies would still require weeks, if not months, to prepare for regulatory approval and certification requirements. This means, even with all efforts, there could be a shortfall of ventilator supplies at the peak of this pandemic.
Do you have an idea regarding the demand for different types of ventilators, such as invasive ventilators versus non-invasive ventilators based on whether the case is acute or subacute, such?
In 2019, around 82,500 ventilators (adult) were shipped globally. The devices used for home use against sleep apnea and those with chronic lung disease are not taken into account.
The majority of the devices, almost 57,000, were intended for the intensive care units of hospitals for the treatment of acute and subacute cases. Approximately 25,000 devices were portable non-invasive ventilators and those used in homecare, nursing care, and ambulance settings. However, owing to the current COVID-19 pandemic, the demand for ventilators have increased approximately 5.5 times compared to the previous year. As per our estimation, the number of ventilators for intensive care units (invasive ventilators) worldwide could be increased to 220,000 to 250,000 units in the current year. We also anticipate that the demand for non-invasive ventilators would rise from 25,000 units in 2019 to almost 140,000 in 2020.
We lead INNSPIRAMED, one of the initiatives in Colombia, and are in the process of designing and producing ventilators. So far, we are able to find their parts but soon there will be a shortage. In that case, what other options can we opt for?
Ventilator shortages are turning out to be a disaster considering the current global scenario. Due to the high demand for ventilators, the global supply chains that deliver ventilator components and other equipment are now disrupted. In addition, global lockdown and import restrictions are also hampering the material and component access across the world. For instance, Electromag, a subcontractor, manufacturer of motors and turbines for ventilators, has recently increased its production by 50%, which the company has to double again in the next month due to its demand.
Even with this increased capacity, the company would only be able to supply 2/3rd of its clients. In such scenarios, a ventilator manufacturer should look for alternate manufactures, such as industrial companies that manufacture spare parts using additive processes (3D printing) or supply motors or turbines for home appliances. Most of the regulatory authorities have already relaxed their regulations for alternative manufacturers to produce components used in ventilators.
Three actions that can help ventilator manufacturers better manage manufacturing supply chain are:
Collaborate with local suppliers for ventilators component that are less critical (such as tube, body case, and pump)
Prioritize critical shortages and identify alternate manufactures with similar capabilities
Collaborate with supply chain data management company to generate map showing the parts of the world where your supply chain is most likely to be disrupted and identify the level of risk for supply shortage
Governments will order new ventilator designs from non-healthcare companies. Who, in this case, is the "legal manufacturer" with regulatory responsibility for the product when in use on patients, the government, or the manufacturer?
It's difficult to provide a precise answer at the moment. However, as per our research, all regulatory responsibilities are with the manufacturers only. To cope with the situation, the government has already relaxed some of the regulatory hurdles and is providing help in basic design, manufacturing process, and sourcing the materials.
How about making low-cost ventilators such as the Bird ventilator made 20 years ago, as such types of ventilator would be easy to manufacture?
Yes, in fact, most of the new entrants and companies institutions across the world are venturing into manufacturing of low-cost portable ventilators, currently. For instance, a group of MIT engineers have developed an alternative design for emergency ventilators. The group has decided to make this design available for free and has requested clinical-engineering teams to work along with their local organizations to develop this system while maintaining the main specs and safety information and share feedback to further improve the design.
Mahindra & Mahindra, an Indian automotive company, has recently announced to manufacture low-cost ventilators that could be available in the market for $150 to $200.
The company is working on an automated version of the Bag Valve Mask ventilator (commonly known as Ambu bag). South African company EPCM Holdings has also started on its own low-cost ventilators with a very basic design to reduce costs and ensure that it can be made from materials and machines currently available in most African countries.
For those who missed the webinar - Click here to watch it