In the age of technological revolution, innovations such as three-dimensional (3D) printing is hugely impacting all areas of life. Since its inception in the 1980s, 3D printing has reshaped the manufacturing process and capabilities in various industries such as automotive, healthcare, and aerospace.
3D printing is an additive manufacturing process that creates a physical object from a digital design. The process works by laying down thin layers of materials such as acrylonitrile butadiene styrene (ABS), metals, resins, and ceramics in the form of liquid or powder and then fusing the layers.
Additive manufacturing/3D printing creates complex and precise products using software-integrated design techniques. Computer-aided design (CAD) or 3D object scanners are used in this technology to take precise measurements of the product to be custom-designed. Several technologies and materials are part of the 3D printing process, including 3D printers, software, services, and printing materials. Rapid prototyping and manufacturing are the two most general applications of 3D printing technology.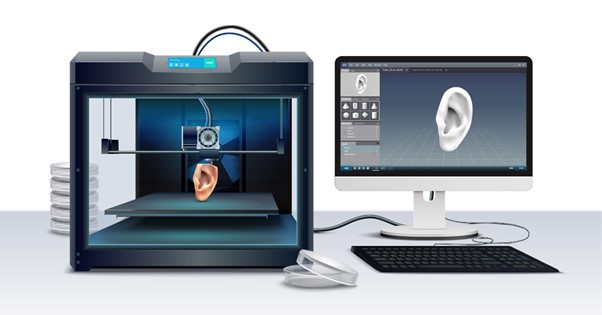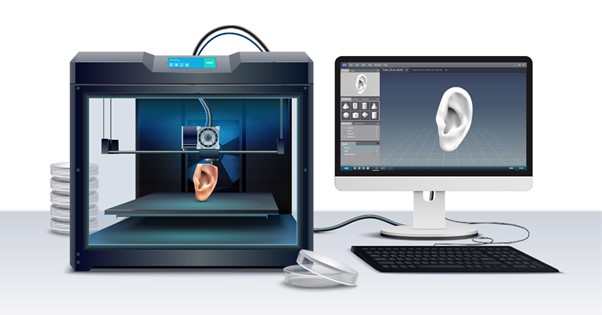 Currently, 3D printing is not being used for mass production. However, the technology has been used to reduce time in the development of prototypes of parts and devices. This has proved to be immensely beneficial for small-scale manufacturers as it reduces the costs and the amount of time it takes for a product conception to be available for sale.
The additive manufacturing process of 3D printing has various advantages over subtractive manufacturing processes such as drilling, welding, injection, and molding, as it can create intricate and complex shapes using less material. It also makes prototypes faster, easier, and cheaper, which allows for more innovation, and experimentation. This article further explores the way this technology is impacting the workforce and businesses globally.
Due to various advantages and advancements in technology, the 3D printing market is growing significantly. According to the BIS Research market report, the global 3D printing software and services market was valued at $9.67 billion in 2021 and is expected to reach $80.84 billion by 2031, growing at a CAGR of 24.3% between 2022 and 2031.
To get a free sample of the report, click here.
Impact of 3D Printing on Business
Various industries and businesses, from small scale to large scale, are adopting the 3D printing technology for the advantages it provides to the manufacturing, supply chain, and other verticals. A few of these impacts are as discussed.
1. Rapid prototyping: 3D printing technology enables fast production, allowing prototype parts to be created in a few hours. Hence, rapid prototyping enables businesses to test new concepts and ideas at a rapid pace. For instance, popular toymaker Hasbro leverages this advantage while designing new products; this allows them to release their products in the market sooner than their competitors.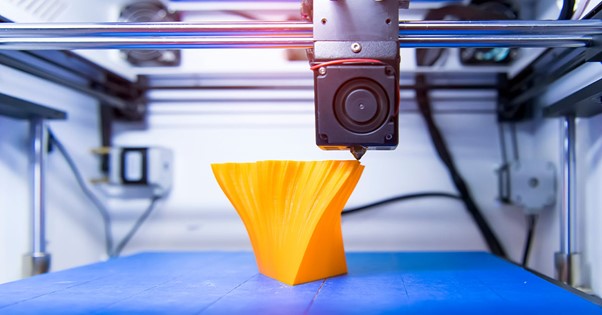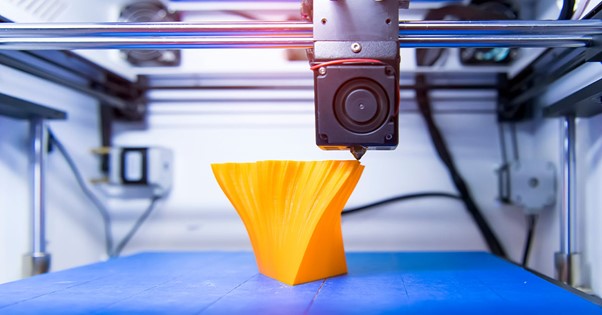 2. Low manufacturing cost: 3D printing is a precise and advanced technology that manufactures efficiently in minimum time and with zero material waste. As it is a single-step manufacturing process, 3D printing saves time and therefore costs associated with the requirement of different machines. 3D printers can also be automated and don't require the operators to attend to the machine the whole time. While the 3D printing equipment can be expensive to buy, it can be outsourced to a 3D printing service company.
3. Easier supply chain process: 3D printing technology minimizes the number of components and processes required for manufacturing. This makes a significant impact on global supply chains as it decreases the complexities involved in the supply chain system.
As the 3D printing designs can be saved in the cloud, parts of the prototype can be designed in Europe or Asia and then manufactured in North America over a single day, which completely redefines the supply chain. When leveraged effectively, 3D printing can eliminate the cost and time of shipping for certain components.
4. Design flexibility and minimum wastage- Another major advantage of 3D printing over the conventional manufacturing process is that 3D printing parts can be custom-made from tailored materials to offer specific properties such as heat or corrosion resistance, high tensile strength, oxidation protection, and water/moisture resistance.
Low material waste is another major advantage of additive manufacturing, as 3D printing only uses the materials required to print the part itself. There is no material waste in additional parts of the products compared to conventional manufacturing processes. This property of additive manufacturing saves material and lowers the cost of overall printing.
5. Weight reduction: The materials used in 3D printing are plastic; it offers an advantage as it is lighter than their metal equivalents. This is particularly important in industries such as automotive and aerospace, where light-weighting is an issue and can deliver greater fuel efficiency.
Impact of 3D Technology on Workforces
The workforce in the manufacturing industry faces various challenges globally. Due to the rise in globalization, manufacturers usually outsource cheaper workforce from developing countries. This trend, combined with a rise in automation, has made well-paid manufacturing jobs more difficult to find. However, 3D printing technology promises to provide opportunities to the skilled manufacturing workforce, which are discussed below.
1. New Job Opportunities: As job growth in traditional manufacturing industries is stumbling, 3D printing is driving job growth in key areas. From 3D computer-aided design (CAD) to equipment technicians, there are an exciting number of new job opportunities driven by this innovation.
2. Freelance Manufacturing: The increasing availability of affordable 3D printers is leading to the creation of freelance manufacturing opportunities. This presents a fantastic opportunity for entrepreneurial individuals who want to explore modern manufacturing opportunities.
3. Educational Opportunities: With the rapidly changing technologies, there are immense opportunities in the education sector. As today's workforce is constantly working to adapt to a world with advanced technologies, future generations will benefit from more educational opportunities. Additive manufacturing is already becoming a key component of high school courses, with several post-secondary offerings also under development.
Conclusion
Due to various benefits such as cost-effectiveness, design flexibility, and low material wastage offered by this technology, the popularity of 3D printing is growing rapidly among manufacturers. Another reason for the latest upsurge in 3D printing use is that it is an easy technique used in applications sectors such as automotive, aerospace, military and defense, consumer, and healthcare. . In the last few years, with advancements and inventions in machines and materials production technologies, the costs are decreasing, making 3D printing more accessible and cost-effective for applications across industries.