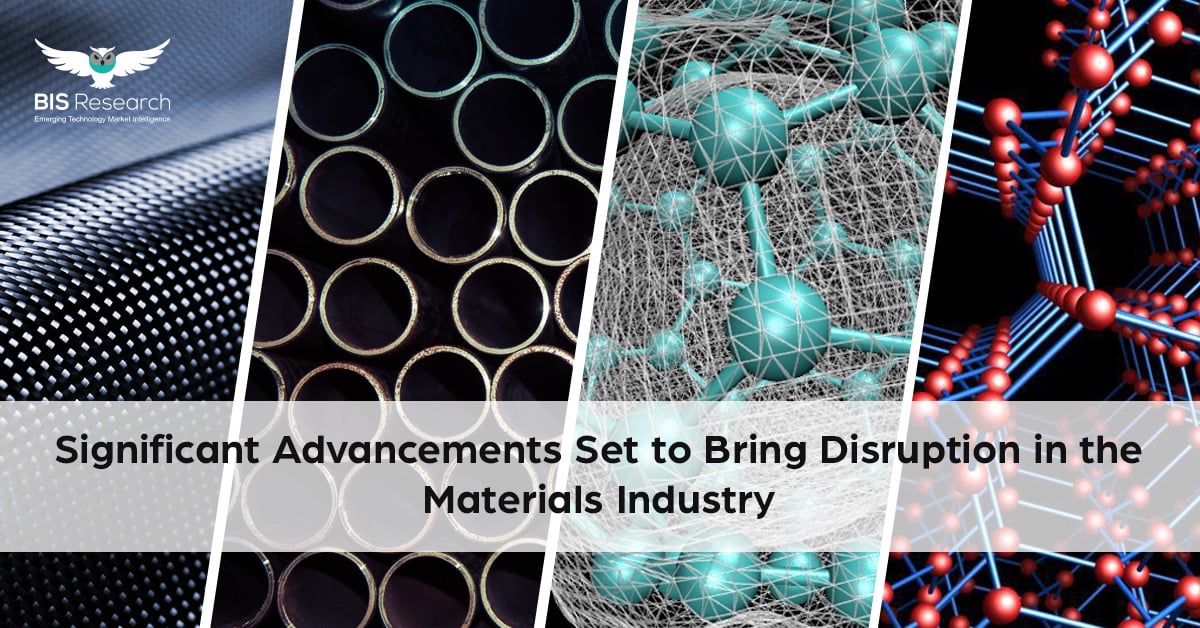 The past decades have observed a remarkable evolution of the materials industry. Breakthrough properties of the advanced materials have contributed to their increased adoption in various applications to achieve efficiency.
Following are five key recent trends in the sphere of advanced materials that have the potential to shape a better tomorrow. They are expected to make a huge dent in the sectors of automotive, space, sustainability, and electronics.
Increasing number of government initiatives to promote waste reduction is driving the prefabricated steel building market.
The government plays an important role in developing prefabricated public housing. Since 2010, the Chinese government has implemented at least 15 policies and standards to improve the development of prefabrication. According to China government's Outlines for the Development of Construction Industrialisation, prefabricated buildings are expected to constitute 20% and 50% of new buildings by 2020 and 2025, respectively. In the U.S., Singapore, and Hong Kong, the researchers have found that employing prefabrication in construction demands lesser quantities of construction materials like steel and concrete, significantly reduces construction waste, increases design efficiency and productivity, reduces construction time scales, improves quality, decreases pollution, increases the accuracy rate, uses less land, and provides sustainable construction methods.
The demand for high-performance insulation materials in the automotive sector is expected to grow due to the electric vehicle (EV) revolution.
Several leading automotive OEMs have partnered with insulation material suppliers to use the materials in their electric vehicles. Governments across the world are starting to implement plans toward increasing electric vehicle sales and phasing-out IC engine vehicles in their countries. The growth of the acoustic and thermal insulation industry can be attributed to the high demand for lightweight and innovative insulation materials for EVs. However, EVs, as opposed to IC engine vehicles, produce ancillary noises which are audible due to the absence of the noise produced from the gasoline engine and transmission systems. Under these conditions, the acoustic insulation quality in EVs needs to be enhanced to prevent the noises from entering the passenger cabin from outside as well as noise from inside the vehicle. Moreover, an enhanced thermal insulation is also needed in EVs to protect the battery pack in extreme weathers, as the battery can lose its efficiency if its temperature is not maintained while driving.
The demand for cost-effective luxury materials such as high-end synthetic suede is expected to grow for automotive interiors.
There is an ongoing trend of replacing natural leather with synthetic suede. Luxury car makers are increasingly using synthetic suede for various car parts such as headliners, door panels, and automotive upholstery. Some of the automakers currently using synthetic suede are Daimler AG, Porsche AG, and Fiat Chrysler. There is a huge requirement of high-end synthetic suede across the automotive industry because of the need for lightweight materials with the aim to increase fuel efficiency and demand from consumers for luxurious interiors. In terms of regions, Europe is the largest revenue-generating region in the global high-end synthetic suede market. Notably, the European region also presently accounts for the highest luxury cars production globally.
The adoption of flexible Organic Light Emitting Diodes (OLEDs) for the wearables end-use industry is projected to grow in the future.
OLEDs are thin films that exhibit electroluminescence when an electric current is applied. The continued commercialization of OLEDs is one of the key focus areas of next-generation display technology and their suppliers. OLED materials are most commonly used in smartphones, wearables, televisions, AR/VR, smartwatches, laptops, notebooks, tablets, and automobile display panels, among other devices. Display panel manufacturers and end users are focusing their area of interest in OLED display materials due to its high-performance qualities. OLED display makers such as Samsung Display have started the mass production of foldable OLED displays from April 2019 and have shipped their first lot of foldable displays to Samsung Electronics. Samsung's first foldable smartphone is named Samsung Galaxy Fold, launched in FY2019. Samsung is expected to supply 100 million flexible OLED panels to Apple for its premium iPhone segments.
Materials such as gallium nitride are expected to have a high demand in the future, especially in the case of space electronics due to its features such as stability, enabling faster processing, and its ability to withstand high temperatures.
The space industry finds Gallium Nitride (GaN) a feasible semiconductor for its devices and components due to its high efficiency to work at high voltages and temperatures. Radiation resistant property also adds a cherry on top for space industry applications. The telecommunication industry is considered the largest and most commercialized industry in the space sector. Space giants such as NASA and European Space Agency (ESA) are still working on the development of gallium nitride devices for accelerating the efficiency and scope of space exploration. ESA's ''GaN Reliability Enhancement and Technology Transfer'' (GREAT2) Initiative and called NASA's "Hot Operating Technology" (HOTTech) Program might open new growth opportunities for gallium nitride manufacturers and developers to collaborate and revolutionize the current electronics, space, and other leading semiconductor industries, among others.