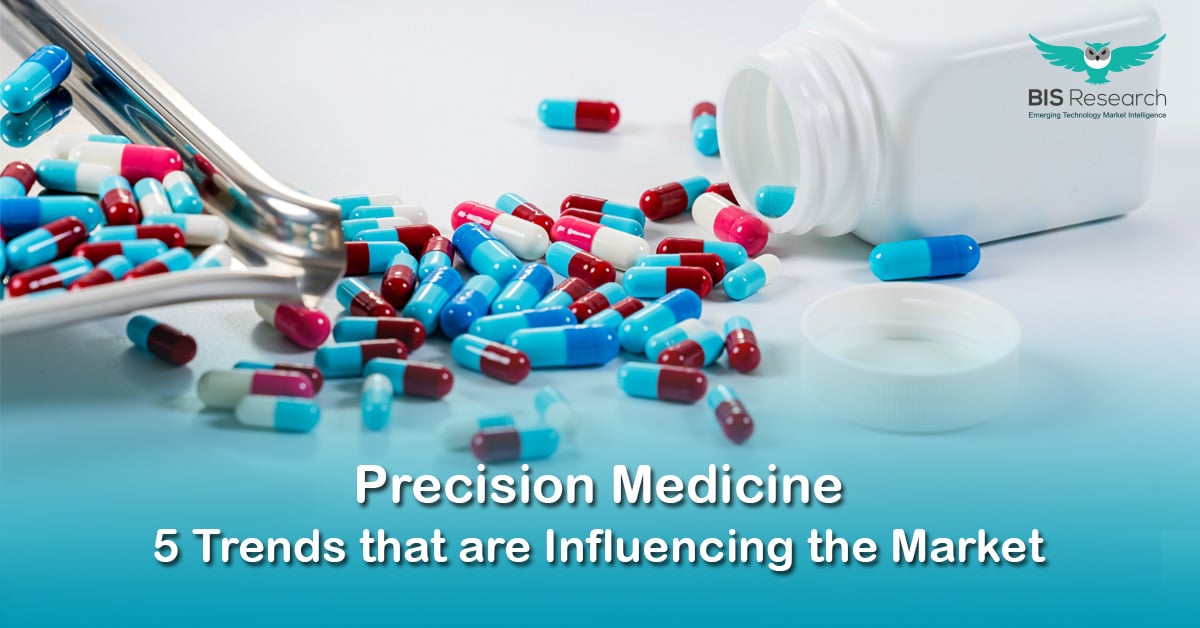 With multiple technological upgradations occurring across healthcare, precision medicine as an umbrella term, aims to transform the industry profoundly. With no customized treatment to drugs, precision medicine is creating an environment where each individual is treated while keeping a track of a person's genomics, and immunization history. Based on the market intelligence published by BIS Research, the global precision medicine market is projected to reach $216.75 billion by 2028 and by growing at a CAGR of 10.64%, during the forecast period from 2018-2028.
The precision medicine market in the year 2019, was influenced by several trends. Here's a list of five most-talked about trends in the precision medicine market and our lead analyst Nitish Kumar Singh's view on them.
Q. As per your opinion, how are the technological advancements in the field of precision diagnostics expected to improve the process of disease detection for the patients?
As of 2018, the healthcare industry has witnessed several successful drug development procedures, mostly for oncology, wherein companion diagnostic assays have played a vital role. With the additional mandate passed by the U.S. FDA with regard to the companion diagnostic (CDx)-drug-(Rx) co-development model, this model is preferred in the healthcare industry while making CDx an indispensable part of the precision medicine.
Approval of companion diagnostics for multiple cancer types, including breast cancer, lung cancer, leukemia, gastric cancer, colorectal cancer, ovarian cancer, and melanoma, among others, have kindled the attention of several pharmaceutical and diagnostic juggernauts such as Illumina and Thermo Fisher Scientific, to venture into this lucrative market with advanced NGS-based CDx solutions.
Q. Is precision medicine ready beyond prime time oncology?
The main factors that can drive the widespread adoption of precision medicine for treating non-oncology diseases are increased research funding, development of new technologies to enable better patient stratification, and reimbursement by payers. It is important that the lessons learned from the study of precision medicine for oncology are deployed systematically applied for the study of other diseases, such as autoimmune disease to facilitate the development of more effective and targeted drugs for a wider range of diseases.
Q. How is the advancement in genome sequencing expected to impact the development of precision medicine?
The advent of technologies such as single-cell sequencing will help to capture the clonal mutation architecture because mutations accumulate independently in each cell. This challenge is compounded by the random nature and low abundance of most somatic mutations. Therefore, it is important to be able to define the features of single cells and be able to identify the differences between them. Another issue with bulk sequencing of cells is that this only shows the germline genotype rather than de novo somatic mutations. Single-cell genome analysis is necessary to identify the clonal development path(s) that lead to an altered cell state.
Q. How is skin microbiome transforming the cosmetics and healthcare Industry?
Owing to a number of technological advancements occurring in the sequencing technologies, understanding the human microbiome has become imperative for the stakeholders present in the healthcare and cosmetics continuum. Research shows that products based on skin microbiome have great potential for treating common skin conditions, including acne, eczema, and rosacea. In addition, the applications of skin microbiome is expected to encompass lesser-known diseases in the future. With several research and development efforts directed toward skin microbiome research, the future outlook of personalization of microbiome therapeutics, along with the expansion of precision medicine reach holds a lot of potential.
Q. How is the blockchain technology expected to influence the Precision medicine market in the coming years?
Currently, multiple studies for precision medicine are being conducted simultaneously, globally. Together, these studies are generating petabytes of data. With an increase in the high throughput of sequencing activities this data is soon to be in exabytes. This copious amount of data increases the need for professional infrastructure that can manage the load of analyzing huge amount of data. This is where data aggregators, including MyHeritage, AncestryDNA, and 23andMe come into play. These aggregators, in the last few years have provided significant insights to consumers with respect to their genetic composition. However, the industry need to understand that the consumers only reserve the right to share and monetize their genetic data. Thus, due to the issue of data privacy, several companies have initiated the use of blockchain technology to store, exchange, and secure genetic data of individuals generated from an increasing number of sequencing activities.
About the Analyst
Nitish Kumar Singh, Lead Analyst – BIS Research
Nitish has over five years of experience in consulting, market research, and business development with focus on biopharma, medical devices, and biotechnology. His responsibilities include end-to-end project management, supporting client engagement by helping business development team through pre-sales support activities, and training subordinates for skill development.