At BIS Research, we make a consistent effort to give our clients high-quality services and a seamless experience.
Primarily dealing in market research for deep technology and innovations that could significantly disrupt the industry in the coming years, BIS Research excels in conducting market viability analyses for innovations still in the early stages.
What do We Offer?
Our unique selling proposition is that we provide market estimates based on data from secondary research, which are then verified through primary research in consultation with key players and opinion leaders from the industry.
At BIS Research, we concentrate on technologies related to precision medicine, medical devices, diagnostics, life sciences, big data analysis, blockchain technology, 3D printing, advanced materials and chemicals, agriculture and food technology, mobility, robotics, and UAVs, and aerospace and defense.
Research Calculator for Efficient Business Planning
Customer satisfaction is at the center of BIS Research's business proposition. Along with the quality of research we provide, we also care about the quality of interactions we have with our clients.
Hence, with the explicit intention of transparent communication and time efficiency, we have launched a first-of-its-kind tool called the "Research Calculator".
For every business, irrespective of the industry they belong to, having accurate information and data about future market projection can be highly useful. The sooner they have this information in place, the better prepared they feel to execute their critical business plans.
This is precisely where Research Calculator by BIS Research comes in handy.
The objective of creating this tool is to provide our customers with a --precise estimate number of working days it might take for our team to deliver research reports, whether a syndicate or a customized one.
This exclusive research tool can not only help in saving precious time by giving a back-of-the-envelope a quick calculation on the amount of time that will be required to execute your requirements.
However, please note that this is an automated estimate based on your inputs, and the actual effort could vary once our team evaluates your requirements and reverts within 1-2 working days.
How to Use the Research Calculator?
The aim of creating this user-friendly tool is to simplify the process for the customers; therefore, using the research calculator also involves a few very simple steps. Here's how it works:
• Visit the 'Resources' tab from the homepage menu and choose 'Research Calculator' from the drop-down options.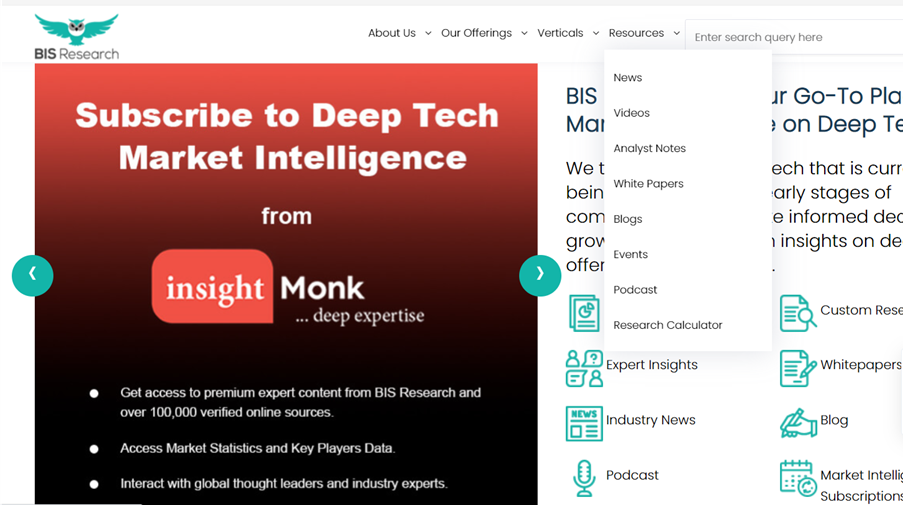 • Once on the page, fill out the details for all relevant sections that apply to your requirements.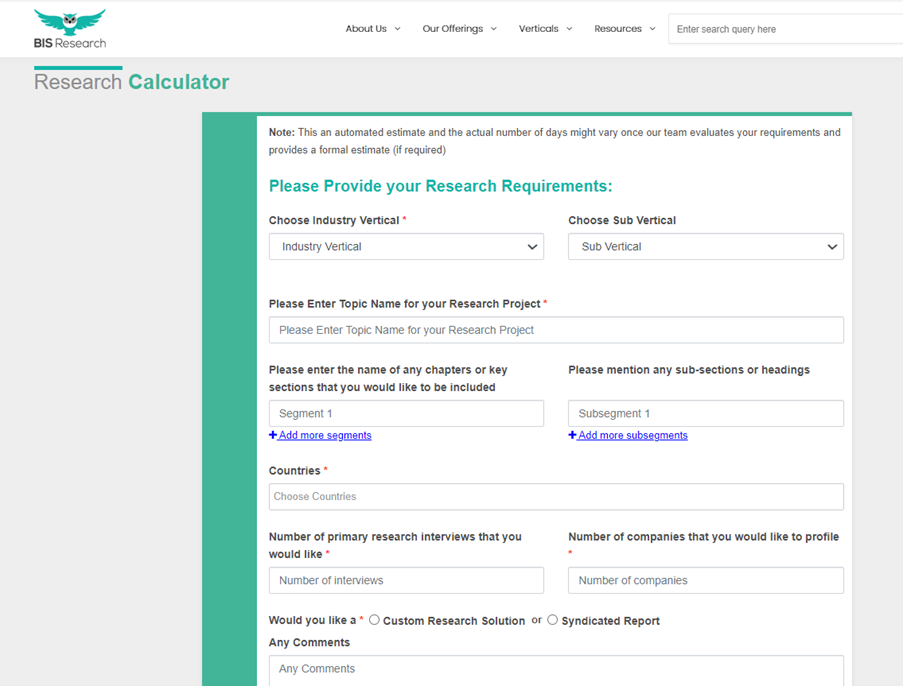 • Fill out the user details and submit the form by clicking on the 'submit' button.

• That's it!
Once you submit your requirements , the tool does the calculation and provides an automated estimation of the timeline you can expect your research study to be delivered to you.

To conclude
With our market intelligence reports, we carry out qualitative and quantitative research on behalf of clients to determine the impact of emerging technologies on key B2B industry verticals.
If you need a quick (or urgent) estimate for your market research requirements and, at this stage, you would prefer to save time but cannot engage with anyone for a detailed project discussion (or cannot wait for 1-2 working days for a response), then we strongly recommend that you use the Research Calculator tool from BIS Research.