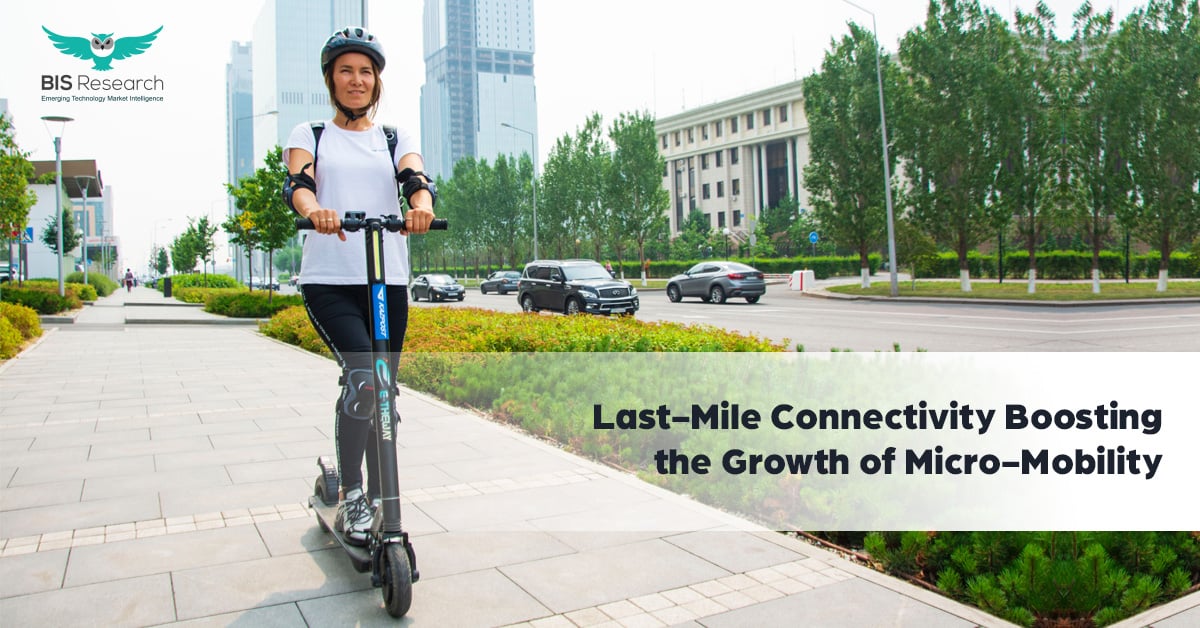 MaaS Alliance is an association of key players and a major government organization which focuses on development of sustainable shared mobility within Europe. It defines micro mobility as personal transportation by use of vehicles that have the ability to carry maximum of two passengers. Micro mobility service is the efficient use of light, compact, and swift modes of commute, majorly powered by human or electric.
At its core, micro mobility focuses on the commuters using ridesharing for their trips under five miles or for first- and last-mile connectivity. First-mile travel is the distance a commuter has to cover from their origin to their destination, whereas last-mile travel is the distance a commuter has to cover from their destination to their point of origin. A journey's point of origin or destination is a individual's home, office, educational institution, and shopping market, among others. Micro mobility vehicles such as kick scooters, e-scooters, e bikes, bicycles, and autonomous shuttles are used for commuting the first- and last-mile distances. These modes of transportation are portable, fuel-efficient, cost-effective, and accessible.
One of the most popular methods of last-mile transit mode has been dock-less bikes sharing systems. This mode allows the user to book a bicycle online through an app and go to any nearest parked bike by following it on their GPS.
According to the analysis by BIS Research, the global micro-mobility market is projected to reach $31.94 billion by 2029. This can be attributed to the thriving last- and first-mile connectivity modes of transportation.
Factors Related to Last-Mile Connectivity Contributing to the Development of Micro-Mobility
In modern urban cities, the need for last-mile connectivity becomes more pertinent as the population grows rapidly due to urbanization, traffic congestion, increase in price of vehicles, and less availability of parking spaces. This offers ample opportunities for micro mobility service providers.
Health consciousness among the people has increased considerably, thus encouraging people to take more number of rides through cycles. This cycling trend has been boosted by about 200% in the past years 2014-2018 and is expected to continue in the next decade, 2018-2028 as well. Cycling is one of the most preferred modes for first- and last-mile connectivity and thereby is accelerating micro-mobility.
Key Strategies and Developments
An array of strategic partnerships, mergers and acquisitions, and innovative product launches has been observed among the companies providing for last-mile connectivity, recently.
On January 15th, 2020, Uber's Jump released a more accessible three-wheeled scooter in San Francisco. On February 10th, 2020, Glafit, a Japanese mobility start-up company launched the micro mobility scooter – X-SCOOTER "Last One Mile" (LOM).
In May 2019, Ford partnered with Agility Robotics to develop "Digit", a robot vehicle used for last mile delivery. Additionally, in February 2019, Ford partnered with parcel delivery company Gnewt to develop a last mile delivery service supported by MoDe:Link, Ford's cloud‑based software.
Moreover, in May 2019, Renault launched EZ-Flex for last-mile urban delivery. The EZ-Flex is an autonomous electric vehicle which is used to transport both people and goods over short distances.
In April 2018, Meituan acquired Mobike, one of the world's largest bike-sharing companies. The acquisition of Mobike can help Meituan to further enhance the efficiency of its last-mile commute.
Extensive Investment in Micro-Mobility Ecosystem Enhancing the Last-Mile Connectivity
Many prominent venture capital funds and automotive OEMs' investment funds have actively supported the emerging start-ups in the micro mobility market, which has resulted in the development of products and services to meet the needs of last-mile connectivity for their customers.
Some of the leading start-ups which have raised large amount of funding include GoJek Tech, Ofo, and DoorDash. The total funding in the micro mobility market by venture capital funds have exceeded $15.38 billion till the year 2018. Some of the leading venture capital funds which have invested in micro mobility start-ups are Sequoia Capital, SoftBank Vision Fund, and DST Global.
Regional Scenario
North America is one of the major markets for micro mobility, driven by the last mile connectivity and public transportation. The region has high penetration rate of shared services, leading to easy acceptance from consumer side toward hiring a service as per requirement. Bicycles and e-bikes dominate the last-mile delivery domain in the European countries such as the U.K., France, Finland, and Germany, among others. The APAC region, with developing countries such as China, Japan, and India, has observed an ever-growing sales of commuter bicycles since the inception of a mobility ecosystem.
Futuristic Landscape
Last-mile connectivity promises the future mode of transportation in the field of micro-mobility. However, the growth of last-mile delivery, if not managed intelligently, can cause traffic grid locks and overutilization of available resources. Artificial Intelligence (AI) can be used to control emission levels in the last-mile delivery segment as it contributes substantially to the gas emissions.
Autonomy in micro mobility is still a far-fetched concept, however, some of the technology companies such as Marble have been successful in deploying projects in the last--mile deliveries market. For instance, in December 2019, Nokia's Paris campus was the venue for the 5G trial implemented by the Last Mile Autonomous Delivery (LMAD) consortium of partners, that observed the presence of a small Autonomous Delivery Robot (ADR) with parcel lockers, delivering goods without human intervention or guidance.
Therefore, the continued advancement and dynamic transformations in the field of micro-mobility brought about by last-mile connectivity is touted as a significant development in the mobility ecosystem.