From hand-drawn tables and charts to high definition (HD) images, the technology is helping governments and organization agencies to monitor ecosystems and track environmental changes in a much more advanced manner today.
The conventional system used to collect environmental monitoring data is constantly getting replaced by advanced monitoring and surveillance technologies such as drones.
Drone technology is one of the best methods to collect accurate and actionable insights about environmental changes, plant health inspections, and plant species recognition.
In other words, earth observation drone technology for environmental monitoring helps in the creation of virtual digital environments that provide better insights into the natural habitats.
How do drones help in environmental monitoring?
Let us understand the importance of earth observation drone technology for environmental monitoring through an example.
There is a company that works toward environmental monitoring and has been informed about a spill situation. The company sends staff to monitor the spill situation. However, it is too difficult for the person to gauge the spill as it moves down a nearby river.
Accessing the river on foot is much hard, and the staff ends the quest, leaving the team having limited information about the spill's progress. This is where drone technology comes in handy. The company can deploy the drone pilot to the spill sites once a month, once a week, or once a day to capture real-time photographs of the spills.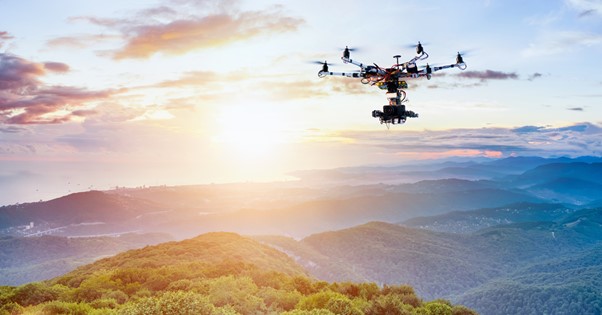 Drones can be easily sent out to any area that is difficult for a human to access, and similarly, they can help to gather information related to spills, even from rivers that are much more challenging for humans.
Drones can be of amazing assistance in other use cases, such as tank inspections and railroad monitoring, which require more occasional personnel hours, and they can provide high-quality photographs for further review.
During the outbreak of the global COVID-19 pandemic, the adoption of drone technology for numerous commercial applications such as pipeline inspections, agriculture monitoring, oil and gas field monitoring, and solar panel inspections witnessed a massive rise.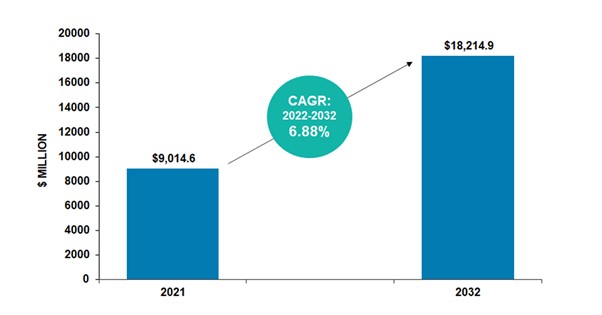 According to the BIS Research report, the global Earth observation drones market is expected to touch $18,214.9 million by 2032 from a market value of $9,014.6 million in 2021, with a growth rate of 6.88% during the forecast period 2022-2032.
Get your FREE report sample here
Ways to Use Drone Technology for Environmental Monitoring
Following are the significant uses of drone technology for environmental monitoring:
• Monitoring Climate Change
Climatologists are aware of the melting sea ice and glaciers at an alarming rate. However, it becomes even more challenging to measure the exact number of glaciers getting melted and their impacts with the use of conventional technologies.
There are two factors making it challenging to analyze the glacier melting; the first one is the satellite images of the glaciers having low resolution and second factor is no accessibility in the glacier environments due to their harsh nature.
The use of drone technology in glacier monitoring has been of great help, as drones have been able to monitor the glacier melting more accurately, quickly, and easily. Moreover, drones are attached with advanced cameras that click high-resolution images compared to satellite images and allow climatologists to have better information on the current situation.
In the future, drone technology can become one of the most valuable technologies to mitigate and understand the harmful effects of climate change.
• Monitoring Wildlife Population
In a wildlife conservation field, it is crucial for the researchers to know the behavior and population size of the different animals and birds.
However, the manual gathering of such information is a challenging task due to many reasons, such as animals keep hiding in various places, hibernating, and many more.
Moreover, animals do not prefer confronting humans much; they usually hide and avoid humans.
The most common technology used for monitoring the wildlife population is the airplane. However, the use of airplanes is not considered much beneficial; it is not only expensive but also creates sound pollution for the wildlife reserve.
The adoption of drones for the same purpose offers benefits such as being less expensive and offering increased precision. When these advanced drones are loaded with technologies such as thermal imaging, they become even more advanced and allow experts to detect wildlife habitation even under a tree canopy.
Moreover, drone technology permits humans to help wildlife inhabitants while controlling any damage to the animals and the environment.
• Energy-Production Inspections
Drones have been established to be much helpful in the energy space, especially for renewable energy sources. Much of the technology and infrastructure require alternative energy distribution and production methods for frequent monitoring.
Drones are one such advanced technology that can help completely stop people from performing risky tasks such as gathering information about the tall turbine blade.
Drone technologies can be used to check on the problems with a wind turbine in real-time and provide 3D thermal imaging of blades to experts. It helps in reducing the extensive downtime and need for difficult manual inspections. Drones are also used to record videos of hydroelectric dam barriers and help with the inspection and installation of solar panels.
Final Thoughts
The use of drones for the environment and Earth observation is much more promising. It can help fetch crucial information much more quickly compared to humans and reduce the risk factors associated with the collection of information. The adoption of drone technology for Earth observation and monitoring can be of great help with respect to critical space missions and intergalactic medium studies.
Interested to know more about the developing technologies in your industry vertical? Get the latest market studies and insights from BIS Research. Connect with us at hello@bisresearch.com to learn and understand more.