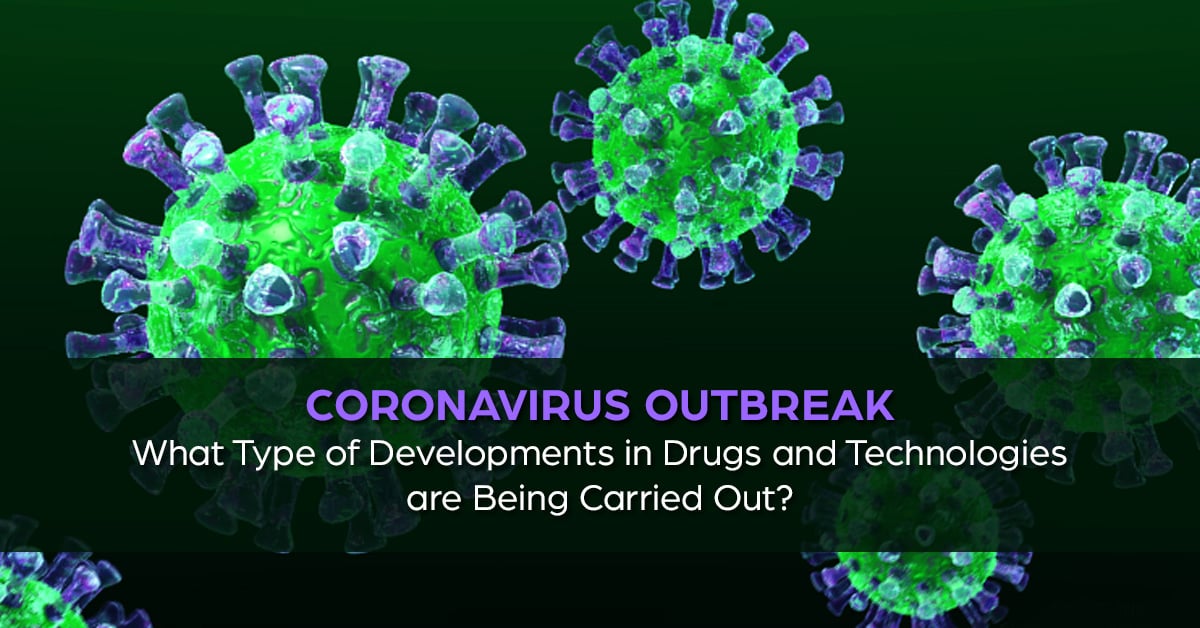 With the outbreak of coronavirus and at least 17,000 confirmed cases as well as approximately 100,000 people under medical observation, BIS Research analysts ventured to decode and find out the origin of the virus to further gain insights on the different developments being done in the market in terms of diagnostics, drugs and technologies, with an objective to curtail the spread of this virus.
What is coronavirus and where does it originate from?
Coronavirus belongs to a family of viruses that can cause ailments in a person, ranging from the common cold to numerous severe diseases, including Severe Acute Respiratory Syndrome (SARS - CoV) and Middle East Respiratory Syndrome (MARS-CoV). Being a newly found virus, there exists no proper cure for treating the infection caused by the virus.
This family of virus gets transmitted from animals to people, i.e. it is zoonotic in nature. Coronavirus is said to have originated in the wet markets of China. A wet market is a place where both live and dead, sea animals, including fish, poultry, pigs, snakes along with several other animals are sold.
However, post the outbreak of SARS, several such markets were either closed or the trade of wild animals was prohibited. In wet markets, both dead and alive animals are kept in close quarters and hence, the chances of exchange of viral component among the alive and dead animals are high. In addition, these animals are kept in extremely stressed and unhygienic conditions, which can compromise their immunity. This in turn increases the risk of generating new class of pathogens which can spread infectious diseases.
How did coronavirus spread out of Wuhan, China?
The virus originated from one of the wet markets in Wuhan, China where several wild animals other than seafood are also traded. The Chinese celebrate their new year on January 25 and it is during this time several people travel to and from the country. It has been reported that on January 1, 2020 the entire seafood market of Wuhan was cleaned thoroughly, however, it is believed that the spread of the virus had been initiated way before that.
The first strains of the virus are considered to have been spread to the workers of the seafood market. According to a research study done by the virologists from the Wuhan Institute for Virology, highlights that the genetic makeup of the new coronavirus somewhat matches (approximately around 96%) with the coronavirus found in bats. In 2002, a similar type of coronavirus broke out in 2002, known as the Severe Acute Respiratory Syndrome (SARS). However, the exact cause of the outbreak of virus in the city is still unknown. Although, the initial test of the virus indicated that the virus is similar to the type of coronavirus found in snakes.
Who can one get affected by this virus and what is the incident population of this virus across regions and countries?
Anyone can come in contact of the virus and the early symptoms of this virus are same as other viruses, including cough, fever, respiratory symptoms, shortness of breath and breathing difficulties. In more severe cases, the infection can lead to pneumonia along with severe acute respiratory syndrome, kidney failure and in certain cases death, as well.
The John Hopkins University, has been tracking the reported cases of coronavirus, globally. As on January 27, 2020, countries which have confirmed cases of coronavirus other than China include Canada, United States, Germany, France, South Korea, and Japan, among others. In total, over 19 countries have reported this data. As per the data published by WHO on February 5, 2020, the confirmed number of global cases is more than 24,000 out of which maximum cases have been reported in China. More than 450 cases of deaths have been reported globally and 25 countries have confirmed cases of infection.
What are the recent market developments in terms of diagnostics?
Currently, diagnostic tests for SARS and MERS which are similar types of viruses are available in the market and are as follows:
SARS Test
A reverse transcription polymerase chain reaction (RT-PCR) test is conducted to detect SARS. The test can be performed using clinical specimens such as stool, blood, and nasal secretions.
Serologic testing can also be conducted for detecting SARS-CoV.
A viral culture and isolation test can also be done.
MERS Test
Molecular Test: This are done to detect presence of MERS – CoV in people. Real-time reverse-transcription polymerase chain reaction (rRT-PCR) is a test that is done to detect the infection, wherein, if the result is positive for at least two specific genomic targets, it shows that the person is infected with the virus.
Serology Test: This test is conducted to detect previous infection i.e. whether or not the person has come in contact with such type of virus.
What are the current treatment options available for coronavirus?
Present scenario witnesses two types of treatments, namely virus-based anti-CoV treatment and host-based anti-CoV treatment. In virus-based treatment, drugs that target nucleosides or nucleotides and/or viral nucleic acids that have broad-spectrum activity against a wide range of CoVs and other viruses are used. For instance, Mycophenolate mofetil having an active compound, mycophenolic acid, exhibits antiviral activity in vitro against various viruses, including hepatitis B virus (HBV), hepatitis C virus (HCV) and arboviruses122. Mycophenolic acid was identified as a potential anti-MERS-CoV drug using high-throughput screening and has shown potent anti-MERSCoV activity in vitro.
However, in case of host-based anti-CoV treatment, administration of recombinant interferons such as interferon alpha and interferon beta inhibit the replication of both SARS-CoV and MERS-CoV in vitro and in animal models.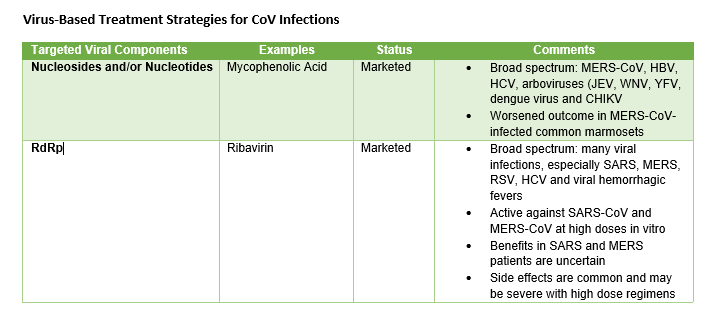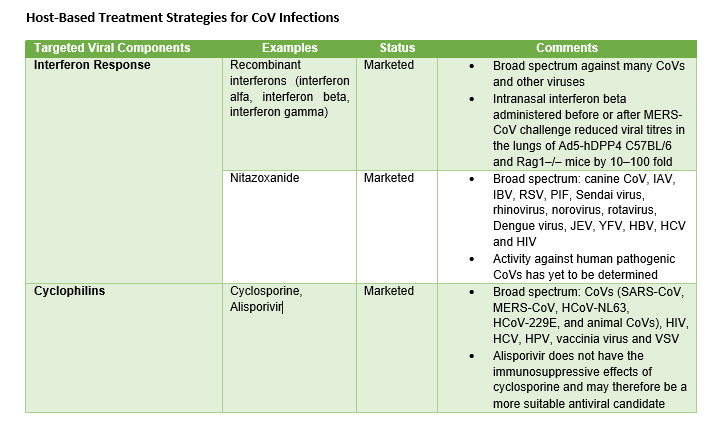 What are the recent market developments in terms of drugs?
Presently, 37 companies are developing antiviral drugs targeting coronavirus, and out of these some of the major companies such as Inovio Pharmaceuticals, Moderna, and Novavax have planned to test 30 therapies including few traditional medicines for the development of effective vaccine against this virus. Recently, Biocryst Pharma's Galidesivir (BCX4430) has shown broad-spectrum activity against a wide range of pathogens including coronavirus. The drug has previously shown survival benefits in patients against deadly viruses such as Ebola, Zika, Marburg, and Yellow fever.
Currently, Galidesivir is in advanced development stage to combat coronaviruses, flaviviruses filoviruses, and paramyxoviruses, among others.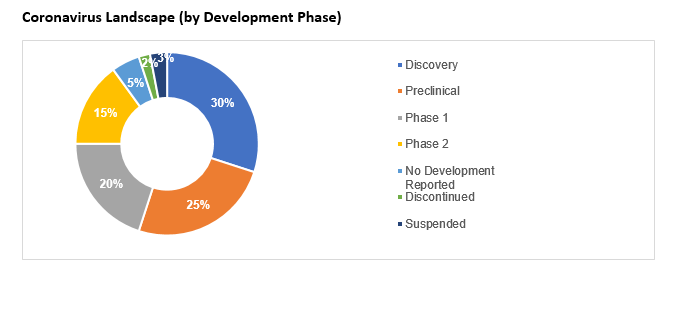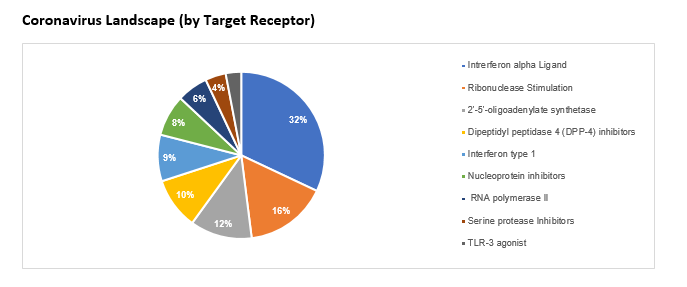 What are the recent market developments in terms of technologies?
Several technologies are under development to formulate therapeutic applications for coronavirus. Some of these technologies include biological therapeutics, parenteral formulation, virus recombinant, small molecule therapy, intravenous formulation, intramuscular formulation, infusion, nanoparticle formulation, peptide, and freeze drying. Among these, biological therapeutics is leading the field with maximum market prevalence.
Coronavirus Landscape (by Technology)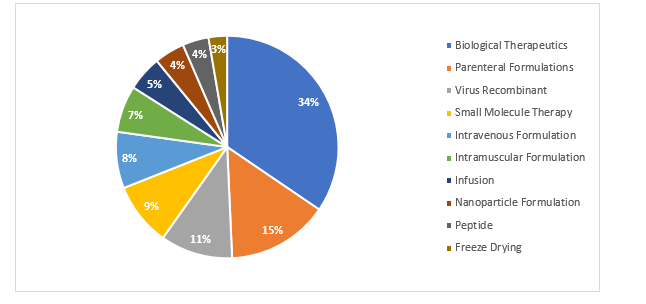 Repurposing Existing Drugs
Companies such as Cipla repurposed HIV drug to combat coronavirus. Cipla recommends combination of lopinavir and ritonavir for the treatment of coronavirus affected patients. The combination is being manufactured under the name of Lopimune in India.
Similarly, China National Health Commission recommended AbbVie's fixed-dose HIV drug Kaletra also known as Aluvia, for the treatment of new coronavirus known as 2019-nCoV.
How is the government of China dealing with the outbreak?
GeoVax signed a letter of intent with BravoVax, a vaccine developer based in Wuhan, China, to jointly develop a coronavirus vaccine using genetic sequences of the 2019-nCoV strain.
China government is offering free mask and building new hospitals to combat the coronavirus outbreak.
China has approved for sale of BGI's Coronavirus Test Kits, and BGI has reportedly provided about 50,000 test kits to hospitals and disease control centers in China
China fast-tracks novel coronavirus vaccine co-developed by the Shanghai East Hospital of Tongji University and Stermirna Therapeutics Co., Ltd.
The government has stopped most of the travel to and from Wuhan and 12 other cities and temporarily banned the sale of wildlife in markets, restaurants and over e-commerce platforms.
China invited a delegation of global health experts to help in development of vaccine against this virus.
Sources Used
NMPA: The National Medical Products Administration, China
SFDA: State Food and Drug Administration, China
NCBI: National Center for Biotechnology Information
NIH: National Institutes of Health
CDC: Centers for Disease Control and Prevention
WHO: World Health Organization
USFDA: Food and Drug Administration, United States of America
Clinicaltrials.gov
Bloomberg
Reuters