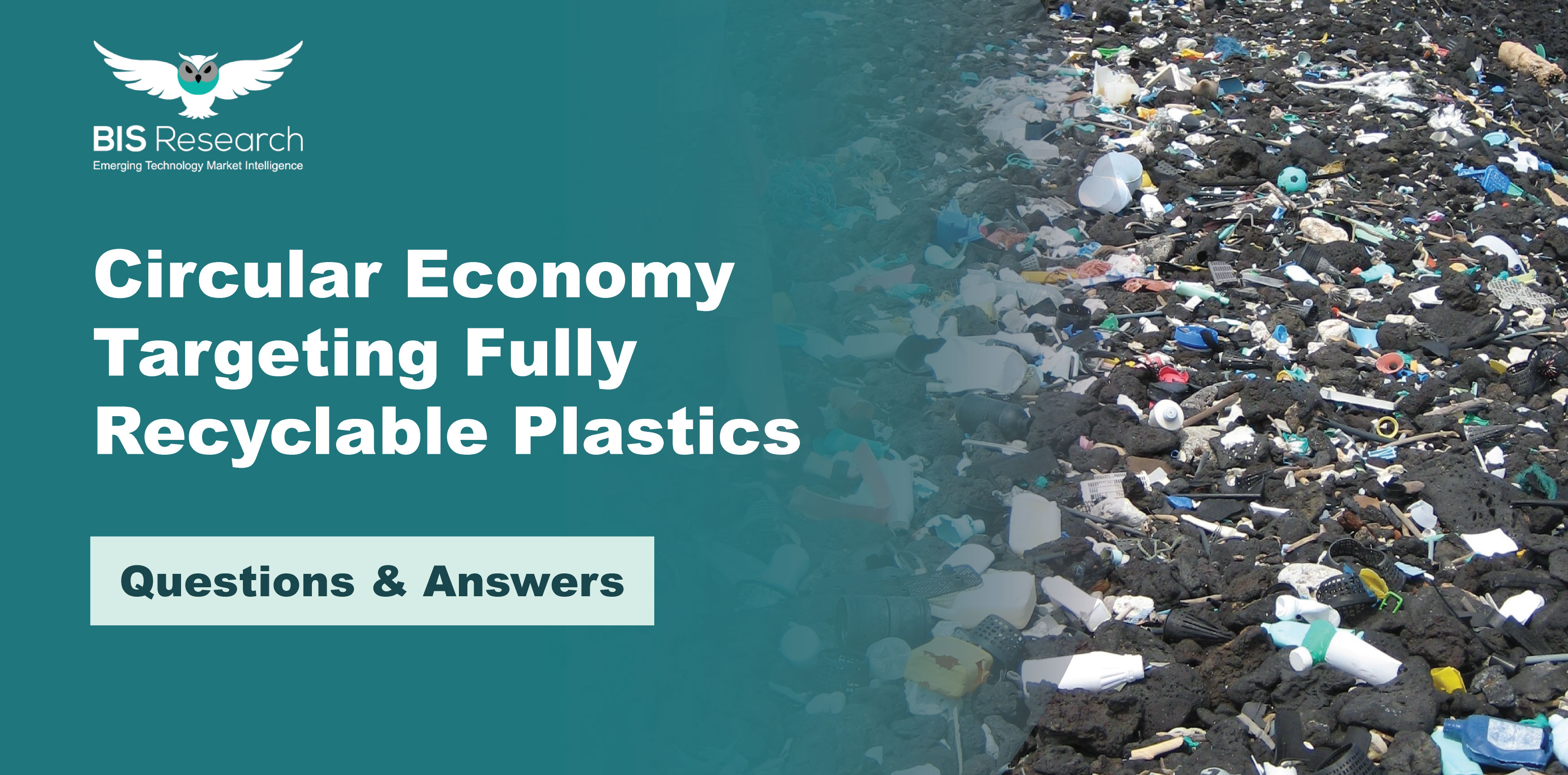 Thank you all for attending the emerging tech webinar on Circular Economy- In Pursuit of Fully Recyclable Plastic, organized by BIS Research. During the webinar, significant insights were shared related to the concept of circular economy gaining popularity, since it can efficiently mitigate plastic waste crisis, improve sustainability, reduce the overdependence on fossil fuels, and highlight new business opportunities.
We would like to share some of the questions asked during the circular economy webinar.
Does LanzaTech have any small-scale units that can be installed for recycling different types of waste or just those at steel mills?
At the moment, LanzaTech is operating on a larger scale with the first four commercial units being built worldwide. The goal would be that as the process scales, the technology will go down the cost curve and smaller scale units will be possible. LanzaTech also operates in small testing unit called a Gas Testing Station that can be shipped around the world and can be used to test a variety of gas streams from different wastes.
To what extent can the entire plastic collected from a country/a society be fully converted?
As long as the waste is collected and brought to a centralized point, it can all be converted using LanzaTech's process. Gasification super heats the unsorted and converts the unrecyclable wastes into a synthesis gas (syn gas). The bacteria to make products such as ethanol can consume this gas. It does not matter if the plastic waste is dirty or mixed stream, it can still be converted through the process of chemical recycling.
What's the cost for setting up a plant? Is there a certain size at which these plants are viable?
It largely depends on feedstock, location, and regulations/incentives in place. Unfortunately, the cost details cannot be provided here.
Is LanzaTech supportive of ending subsidies for upstream industries - such as oil & gas exploration?
We believe that we should be focusing on supporting all sustainable solutions to help us meet our climate and energy challenges. Currently, there is an imbalance in consumer perception related to costs because of long-term subsidies to older, more established technologies. The goal of incentives and subsidies should be to support technologies until they can reduce the cost curve, and then they should be minimized and used to support newer technologies.
Is LanzaTech supportive of a carbon tax?
Absolutely. There needs to be a meaningful price on carbon. We are witnessing a trend wherein industries and companies already establish internal carbon pricing which is a positive sign.
How much energy is used in the process (in relation to the energy produced)?
We are unable to give details here for confidentiality reasons, but we can say that using LanzaTech's approach is over 2X as efficient as incinerating the waste.
Recycling plastic to new plastic, what should one do to improve the value of the recycled plastic so that it can be recycled repeatedly?
I am not sure I understand the question. However, when you recycle plastic to plastic using chemical recycling, the beauty is that you are breaking it back down to the molecular level and rebuilding it. This means it does not lose its material integrity or any of its properties, which can happen after multiple mechanical recycling.
In case you missed the webinar, it is now available on demand. To view the recording of the webinar, click here.