One of the emerging technologies in the energy and power industry is solid-state transformer (SST) technology. According to industry experts, the technology is set to be used extensively in the future to combine low-voltage and high-voltage networks with control circuits and power electronic converters, making it easier to integrate renewable energy sources into smart grid applications.
Some of the most significant and practical features of SST technology include its small size, light weight, low price, and simplicity of connection in offshore applications.
A transformer is the most important element used in utility transmission and distribution networks that is used to transfer power from one electrical circuit to another. Therefore, the use of more advanced electronic components in solid-state transformers is being embraced by end users as they are becoming more readily available.
SST technology is now being researched and developed all around the world to commercialize it by 2025. In the future, it is anticipated to find use in traction locomotives, smart grids, electric vehicles (EVs) charging stations, and other systems.
However, there are several implementations and security, financial, and communication compatibility issues with SST technology that need to be solved.
The article proceeds to discuss solid-state transformers and their contribution to the energy efficiency of smart grids.
What are solid-state transformers?
A solid-state transformer, commonly referred to as a smart transformer, is a modern type of transformer that consists of an additional high-frequency transformer, control circuitry, and numerous semiconductor components. By reducing voltage fluctuations, it enhances the quality of power compared to conventional transformers.
It lessens grid losses, improves supply security, and shields consumers from grid outages. Depending on the demands of the application, SSTs can carry out any necessary electrical energy conversion (i.e., AC-AC, AC-DC, DC-DC, or DC-AC).
In the future, it is anticipated to be used widely for a variety of applications, including the integration of renewable energy, traction locomotives, electric vehicle charging stations, and others.
The major market players are investing in the R&D of solid-state transformers to meet the rising demand for smart equipment, such as solid-state transformers from applications including smart grids, renewable power production, EV charging stations, traction locomotives, and others.
Additionally, several research organizations, worldwide universities, educational institutions, and government energy agencies are working to produce fresh solid-state transformer designs, which are anticipated to lead to significant market growth.
According to the BIS Research report, the global solid-state transformer market is expected to be valued at $207.3 million in 2025 and is projected to reach $467.0 million in 2031, following a CAGR of 14.34% during the forecast period 2026-2031.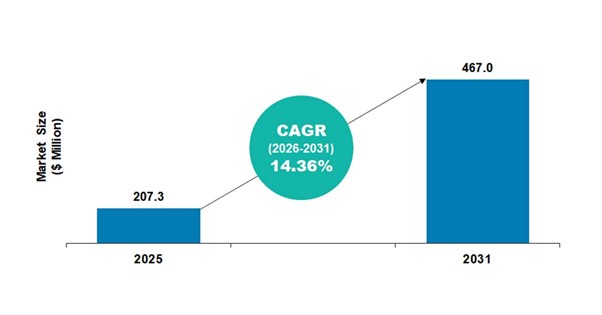 Find more details on this report in this FREE sample.
Role of Solid-Sate Transformer in Enhancing the Energy Efficiency in Smart Grids
There is more to the power grid than mere infrastructure for generating and transmission. One of the most dependable power grids in the world is run by a collaborative ecosystem of federal, state, and municipal asset owners, producers, service providers, and administrative personnel.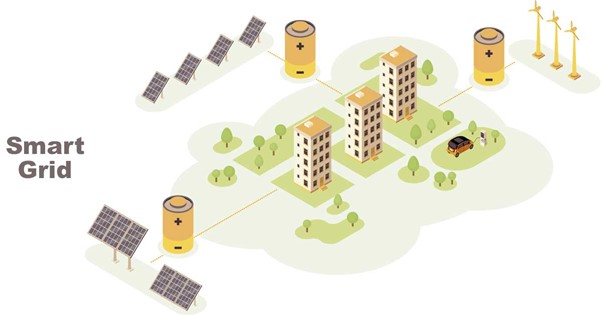 To ensure access to dependable, secure, and clean energy sources, the U.S. Department of Energy (DOE) collaborates with both public and private partners to reinforce, reform, and enhance the nation's energy infrastructure. In certain industrialized regions, the electrical infrastructure is getting older and being asked to do more than it was intended to.
By utilizing cutting-edge technologies, gadgets, and controls that collaborate and communicate to deliver power more reliably and efficiently, the grid can be modernized to become "smarter" and more resilient. This will lessen the frequency and duration of power outages, as well as the impact of storms, and will hasten the restoration of service in the event of outages.
In addition, the automated and intelligent power handling equipment has been made available in the power sector. The current grid infrastructure is intended to utilize this intelligent equipment, such as solid-state transformers, to support its operation and provide high performance and efficiency. Size reductions are largely responsible for solid-state transformers' advantages. A transformer cannot be planted easily today.
The budget is affected by factors such as the cost of transportation, site preparation, installation, and transmission. Smaller and less expensive solid-state transformers, on the other hand, might be installed in compact solar arrays or storage pods with reasonable simplicity.
Having more transformers to regulate and fine-tune power quality makes it simpler for a utility to manage the many power sources feeding the grid. The two main issues that affect most economies are power losses and deteriorating resilience caused by aging transmission and distribution infrastructure.
Therefore, as part of ongoing grid modernization efforts, several nations want to construct smart grid infrastructure. Utility corporations are also pouring billions of dollars into smart grid technology, from grid-scale battery storage systems to smart meters that can harness the full potential of renewable energy sources.
In any electrical distribution system's heart and soul, transformers are built using technology from the previous century. As a result, applications for the smart grid are predicted to increase demand for solid-state transformers in the upcoming years.
Conclusion
When integrating the grid for renewable energies into the current electricity grid, the adoption of a smart grid infrastructure offers definite advantages. As a result, it makes it easier to create a hybrid grid, which helps to meet the growing demand for energy security.
The expansion of the smart grid is anticipated to drive the need for solid-state transformers in the future, which is predicted to be fueled by favorable government initiatives for sustainable energy generation that necessitate dependable power infrastructure.
Interested to know more about the growing technologies in your industry vertical? Get the latest market studies and insights from BIS Research. Connect with us at hello@bisresearch.com to learn and understand more