Biomaterials have proven to be a life saver for the patients suffering trauma by accident. In a recent breakthrough, Invibio Biomaterial Solutions teamed up with CarboFix Orthopedic to help James Ellington, the UK based athlete, to help him recover from trauma fractures and get back in the game. Biomaterials interact with the biological systems as they are biocompatible and help in the treatment, augmentation, repairing or replacement of a tissue function of the body. Biomaterials are derived from natural sources such as animal tissue, as well as consist of synthetic materials such as metals, polymers, and ceramics.
A Brief History of Biomaterials:
Biomaterials have been in use since the dawn of civilization, when ancient Egyptians used linen threads for wound closure, about 4,000 years ago. It has been found that Inca surgeons used gold to treat cranial fractures and ancient Mayan civilization used sea shells to create artificial teeth. During the Middle Ages, Europeans used sutures prepared from catgut and in 200 AD, they fabricated artificial teeth from iron. The biomaterials have evolved since, and it was during the last century that the interactions between the body, materials, and implants were studied, by testing them on animals. After the first half of the twentieth century, major uses of implants, using biomaterials, for numerous diseases and disorders.
Global Biomaterials Market- Drivers and Restraints:
The global biomaterials market was valued at $72.36 billion in 2016. It is estimated to reach $151.65 billion by 2021, growing at a CAGR of 16.0% between 2017 and 2021. A number of factors are influencing the biomaterials market towards growth, which includes unique properties of biomaterials, increasing funds by government for research purposes, increasing number of wound healing therapies and plastic surgeries, increasing aging or geriatric population, rise in prevalence of cardiovascular diseases, increasing awareness of regenerative medicine, increasing orthopedic disorders, and growing demand for implantable devices.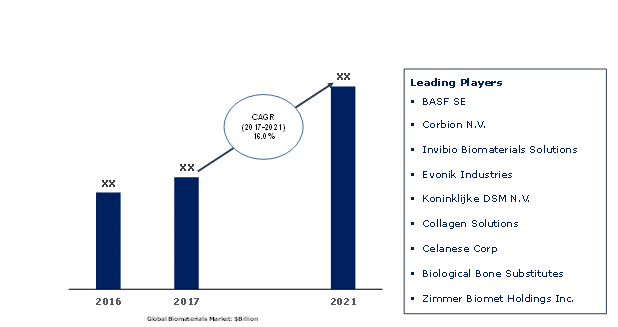 Global Biomaterials Market Snapshot
However, the market may experience some lag due to the safety and stringent regulations. The market may also get affected by the biocompatibility issues and the limitations of biomaterial products.
Segments of Biomaterials Market:
By type, biomaterials market is divided into metal based, polymer based, regenerative biomaterials, inorganic glass, radiopaque biomaterials, natural biomaterials, and hybrid combinations biomaterials. Among these, metal based biomaterials dominated the global biomaterials market with a share of approximately 24% in 2016. This segment was valued at $20.11 billion in 2016 and is projected to reach $34.62 billion by 2021. Metals are being used in all the applications of biomaterials such as cardiovascular, orthopedic, ophthalmology, and dental, among others.
BIS Research has conducted an extensive market research on 'Global Biomaterials Market - Analysis and Forecast: 2017 to 2021'. The market intelligence report aims to provide an in-depth analysis of the key development strategies, marketing strategies and market trend dynamics which includes drivers, restraints, and opportunities prevailing in the industry.
For further queries, please write to us at sales@bisresearch.com or call us at +1 650 228 0182.