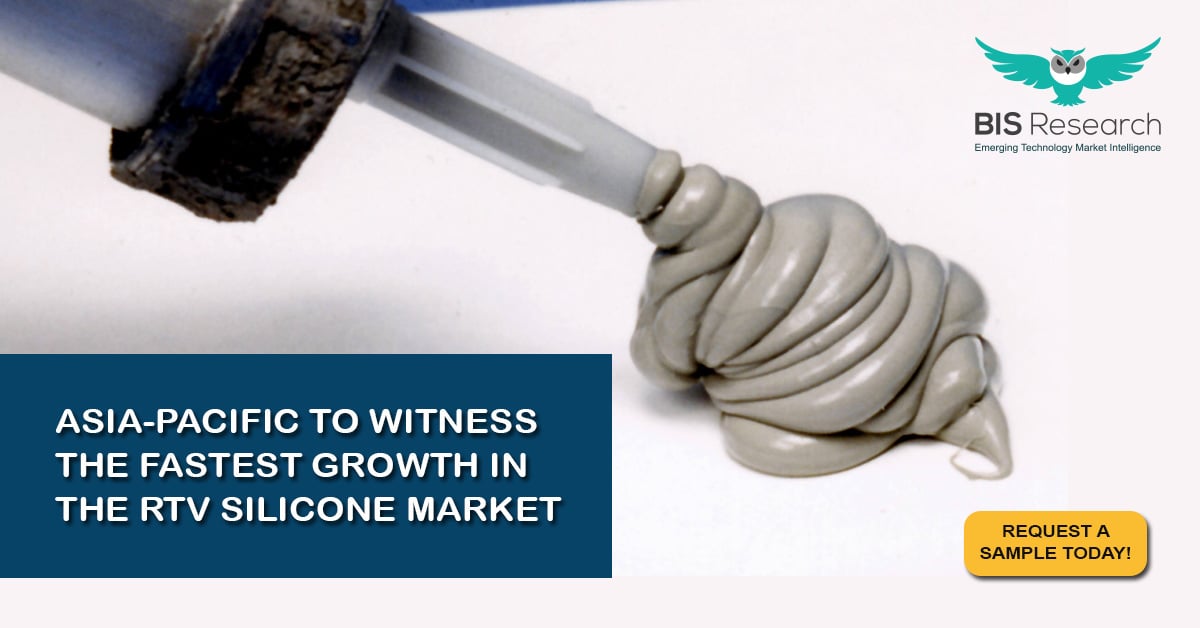 Silicone elastomers represent a unique combination of organic and inorganic chemistries, which result in the formation of some of the most stable organic materials exhibiting excellent chemical structure. RTV is a type of silicone elastomer which is made from one-part (RTV-1) or two-component (RTV-2) systems, with their toughness ranging from very soft to medium. RTV silicone is ideal for numerous bonding and sealing operations. The growth in the global RTV silicone market is attributed to the wide usage of RTV silicone in the construction sector. The rising demand for electric vehicles, growing electronic components in automotive, increase in disposable income in developing countries, and surging demand for medical devices are some of the prominent factors promoting the growth of RTV silicone in the industry.
The report by BIS Research, titled "Global RTV Silicone Market-Analysis and Forecast, 2019-2029", tracks the particular market, segmented by type of RTV silicones, applications, and regions. It is compiled in an insightful bunch of 217 pages, including 97 figures and 74 market tables. According to the study, in 2018, the market was valued at $1.10 billion, and the CAGR is projected to grow at 4.13% during 2019-2029.
The research is carried out through extensive primary interviews (market players, in-house experts, and industry leaders) and secondary research (accessing various paid and unpaid databases), together with the analytical tools that have been used to build the predictive models.
RTV-2 to Dominate the Global RTV Silicone Market (by Type)
The major reason for the growth of RTV-2 silicone is that they are considerably stable in a wide temperature range of - 80°C to +250°C. RTV -2 silicone has a wide range of applications in mold making, encapsulation, and potting of electronic components in high-tech industrial and scientific equipment and for coating textiles. The RTV-2 segment is expected to showcase the largest market share during the forecast period between 2019 and 2029, followed by RTV-1.
Construction Sector to Dominate the Global RTV Silicone Market (by Application)
The RTV silicone market, in terms of application, is mainly categorized into construction, automotive, electrical and electronics, aerospace, and others. The construction application in the RTV silicone market was the largest segment in 2018, accounting for 28.78% share, in terms of value. RTV silicone has numerous applications in the construction industry due to high-strength bonds with glass and ceramics, water repellence, flexibility, and UV resistance.
RTV silicone is used in various applications such as stress cracks and joints in walls, expansions and control joints, perimeter joints, glass aluminum composite panels, ceramics, and coated surfaces in the construction industry. It is also used in the medical industry, aerospace applications, and bonding solar cells to solar array panels. In addition, the automotive industry is currently the second-largest market of RTV silicone. The rising sales of electric vehicles in countries such as China, Norway, and the U.S. are boosting the overall market of RTV silicone.
Asia-Pacific: Largest Revenue-Generating Region in the RTV Silicone Market
The RTV silicone market holds a prominent share in various countries of North America, Asia-Pacific (APAC), Middle East and Africa, Europe, and South America. Accounting for 41.82% of the global market, APAC is presently dominating the market by value. China generated the highest revenue in APAC followed by Japan, in 2018. Industrial advancements, extensive investments for dedicated research and development facilities, and rising end-user applications are some of the major drivers that are propelling the growth of the market in the region.
Additionally, a growing electrical and electronics industry in APAC is also boosting the development of RTV silicone. Mitsubishi Electric, LG Group, and Sony are some of the major electronics and electrical manufacturing companies in APAC. Moreover, APAC is expected to witness an infrastructure and construction boom during the forecast period.
The RTV silicone market in APAC is expected to witness the highest growth rate in terms of value during the forecast period (2019-2029). This potential growth is supported by an extensive industrial base, encouraging government policies, and financial support in research and development offered by the governments of countries such as China and Japan.
Competitive Landscape
The competitive landscape of the RTV silicone market consists of different strategies undertaken by major RTV silicone manufacturers such as Elkem ASA, Henkel AG & Co. KGaA, KCC Corporation, The Dow Chemical Company, and Wacker Chemie AG are some of the leading players in the global RTV silicone market. . Some of the strategies adopted by RTV silicone manufacturers are a wide range of product launches, business expansion, mergers and acquisitions, partnerships, and collaborations.
To increase their overall global footprint, RTV silicone manufacturers are launching a new range of products, expanding their businesses, and are also entering into strategic partnerships with different distributor networks and e-commerce portals to target a greater customer base.