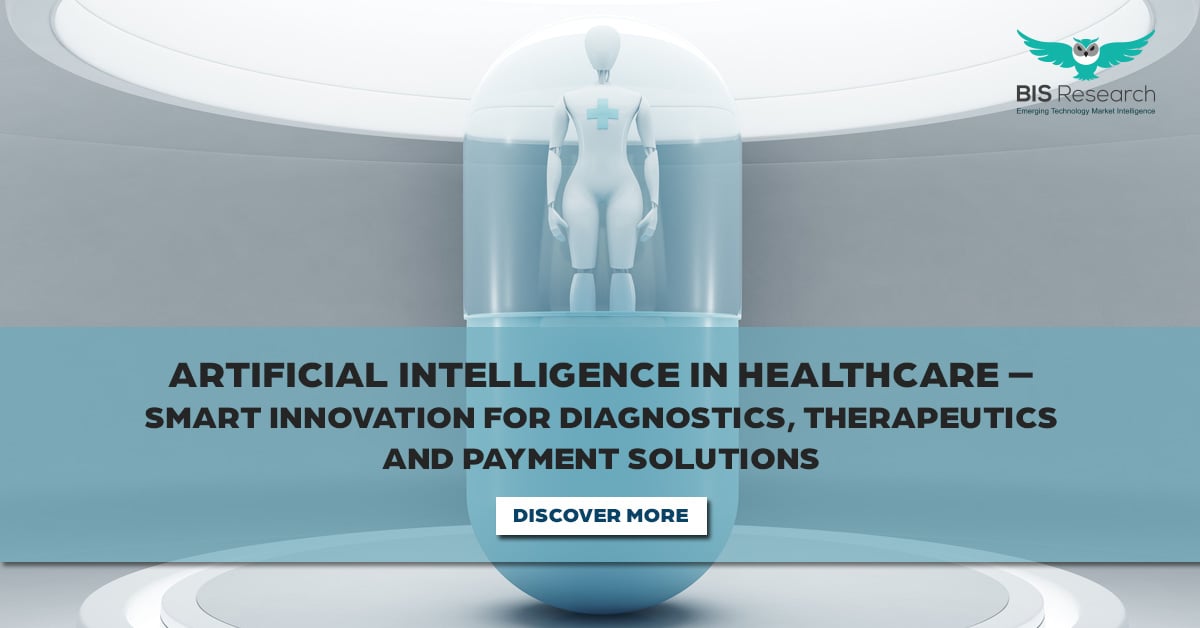 Over 90% of American hospitals have switched to digital medical records! Artificial intelligence (AI) offers enormous prospects that can enable business organizations across industries in making strategic decisions in lesser time. The concept of AI demonstrates its potential for the next generation of technological innovation that will create "new opportunities for all our lives that are unimaginable today".
BIS Research has been tracking the emerging trends in the AI domain over a period of time, covering various end-user industries including healthcare, agriculture,security and surveillance, as well as aerospace and defense. In the light of the recent strategic developments in the AI in healthcare sphere, we, at BIS Research, have compiled a set of questions, along with their answers straight from our senior analyst, Swarup Chakrabarty in the healthcare domain. The answers include the viewpoint of the senior analyst on the revolutionary outcomes that these developments are expected to have on the market.
1. A U.S. startup LeanTaaS has found a way to use machine learning to optimize hospital resources like operating rooms, with Goldman Sachs leading a $40 million Series C just last month, bringing total funding to a reported $101 million! What is your take on that?
The startup ecosystem is really promising. Companies such as LeanTaas have the true potential to enhance healthcare access and reduce healthcare costs. LeanTaas, with its prescriptive analytics platform, helps customers achieve a tangible operational efficiency. The recent funding, backed by Goldman Sachs, will help the company expand its sales, market, and R&D force.
Furthermore, other companies are also significantly investing in this space to optimize healthcare operations with the help of AI. For example, Qventus, a California-based company, has also developed a software platform that optimizes patient flow across a hospital.
2. An AI system developed by Google reportedly surpasses expert radiologists in accurately detecting breast cancer. Do you think that in addition to supporting, AI can replace clinicians one day?
While AI has tremendous potential to automate many clinical processes, it would not replace clinicians any time soon. AI and machine learning algorithms require a huge amount of data to be effective, and these datasets are immensely dependent upon manual support for their collection and analysis. Furthermore, these tools are not as valuable as a human contribution in cases where great amount of reasoning and empathy is required. Hence, these tools are effective at giving the clinician a perspective and empower him to make clinical decisions
3. Samsung unveils artificial human Neon at CES 2020, an AI system which is capable of showing human-like emotions, intelligence. Throw some light on how digital health is the long-awaited game changer for the healthcare industry?
Digital health is already a $144 billion industry, as of 2018, and is rapidly growing. Certainly, there is an ongoing and upcoming trend for AI-powered digital health services. The potential of AI to make healthcare affordable, accessible, and safe is undeniable. However, in order to realize the full capability of AI, partnerships between technology vendors as well as healthcare and pharmaceutical experts are critical.
Samsung's preview launch of Neon at CES 2020 has indeed been a major stride in the AI space. However, the technology is yet to undergo tremendous beta testing with selected partners only and will not become readily available to public for testing any time soon.
4. The British AI healthcare firm, Babylon, is hoping to work with more partners in China to improve healthcare coverage and quality, nationwide, as the country's "Healthy China 2030" campaign creates abundant opportunities. Kindly share your thoughts on the regional scenario of AI in healthcare.
Indeed, AI has witnessed a significant surge in terms of country-level or regional adoption. China, for example, may not have been an early adopter, but has certainly evolved to be the largest investor of AI in healthcare. Back in 2017, the nation unveiled its AI development plan, which considers smart healthcare as a major application area for AI. Consequently, the number of startups and technology giants has significantly increased aimed at applying AI in medical applications.
Furthermore, expansion of digital health services in China could also facilitate the Healthy China 2030 initiative, introduced in 2016 by Chinese authorities.
5.Nearly 80% of US and UK health professionals say AI has reduced health worker burnout; 45% say it has increased time to consult with and treat patients. What are your views on AI acting as a catalyst to make healthcare more human and dependable?
AI is certainly acting as a catalyst to make healthcare more accessible, affordable, and safe. The benefits offered by the technology in healthcare are immense and often span from increasing the amount of clinician time with patients to facilitating cross team collaboration in order to deliver preventive care. These benefits are also being realized by healthcare stakeholders themselves. For example, as per a study conducted by MIT Technology Review Insights with GE Healthcare, 7 out of 10 healthcare providers are already considering the adoption of AI. Also, the study reveals that about 80% of healthcare organizations are planning to increase their spending in AI in the next two years.