Hospital capacity around the world has been severely stressed by the ongoing rise in disease burden on the healthcare system and the additional burden of the COVID-19 pandemic, with inpatient beds at or close to full occupancy in healthcare facilities across the globe.

By offering an alternate location for required treatments, ambulatory surgery centers (ASC) can and do play a significant role in the healthcare system, considering the demand in acute settings.

Without the need for a sizable and conventional hospital, ASCs and outpatient hospitals provide integrated operating room (OR) system that include surgical, diagnostic, and preventive surgeries. Both provide dependable care and similar services. However, the ownership, management, and cost are different.

This article will outline the processes offered at these facilities and highlight the rising prevalence of ASCs over outpatient hospitals.

How do ambulatory surgery centers work?

Ambulatory surgery centers (ASCs) are compact settings that provide surgical and diagnostic procedures that are often easier and less intrusive for the patient. Although surgery can sound intrusive and frightening, many surgical procedures conducted at ASCs are minimally invasive and can be carried out in this kind of standalone facility.

Since the ASC is usually smaller than the hospital, patients have more individualized care and team interaction there. Perhaps most convincingly, prices for both patients and payers can often be much lower at ASCs because of lower cost bases for space, staff, and various types of medical supplies, while profits for healthcare providers can be higher.

Moreover, with the evolution of ambulatory surgical center operating room integration systems, the scope and care quality of ASCs have increased substantially. These facilities comprise various products that are used in an operating room, such as products for visualization, lighting, imaging, operating room (OR) integration software, and other products such as insufflators, medical printing devices, and OR communication and control systems.

The BIS market research suggests that the global ambulatory surgical center operating room integration systems market is projected to reach $5.2 billion by 2032 from $2.5 billion in 2021, at a CAGR of 9.88% during the forecast period 2022-2032.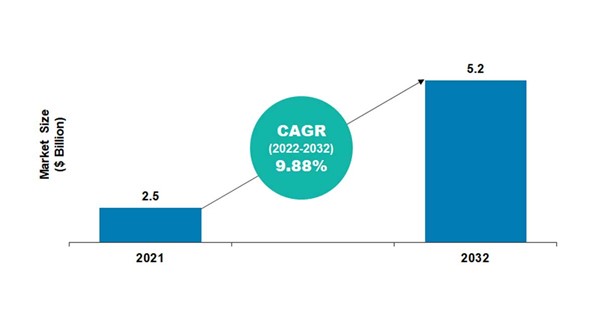 Find more details on this report in this FREE sample

However, ASC is not intended for difficult surgical procedures in patients with various underlying medical conditions. For instance, emergency surgery for a small intestine obstruction or partial lung excision in a cancer patient wouldn't be done in an ASC.

How does outpatient hospital work?

Outpatient hospitals are like ASCs as they provide surgical, diagnostic, and preventive services, but they are managed by hospital systems rather than private businesses or associations of healthcare practitioners. Essentially, a hospital system is an extended version of an outpatient hospital financially and administratively.

Since outpatient hospitals are not physically connected to a hospital, they may seem independent, but they are managed by hospital managers. Healthcare professionals are not frequently involved in facility ownership and day-to-day management of an outpatient hospital.

However, an outpatient hospital offers the same kind of care for a specific procedure as a typical hospital or an ASC. Cost is the primary factor determining the difference.

Ambulatory Surgery Center vs. Outpatient Hospital

Over the past decade, many procedures once performed in hospital outpatient surgery departments have moved to ambulatory surgery centers. The interest in ambulatory care has increased as a result of COVID-19. However, for numerous reasons, this transition started long before the pandemic. For instance, patients can be discharged from ASCs within 23 hours of receiving care, which lowers their risk of infection and enables rehabilitation to take place in the comfort of their own homes and is frequently more convenient than hospitals.

Health systems are aware of how important ambulatory care is. Numerous organizations have concentrated on the expansion of ambulatory care-supporting services and technologies, as well as the growing attention health systems are giving to providing care across the continuum. The fact that these trends are being driven by more basic, connected market shifts means that they won't disappear very soon.

A few advantages of ambulatory care centers over outpatient hospitals are mentioned as follows:

1. Innovation and Technology: Numerous treatments, such as knee replacements and tonsillectomies, have moved into the ambulatory setting owing to improvements in clinical approaches and techniques, including new breakthroughs in anesthetic and pain control as well as minimally invasive surgical techniques.

2. Consumer Demand: Consumers prefer out-of-hospital medical care because they are more concerned with cheaper costs, greater access, and better experiences. Consumers are becoming more cost-conscious in their medical decisions as a result of the rise in limited networks and high-deductible health plans.

3. Cost Differences: Typically, ASCs are less expensive than outpatient hospitals. ASCs are a cost-effective and efficient alternative to hospitals for performing simple and non-life-threatening surgical procedures.

A single-specialty ASC is where more than 67.00% of surgical procedures conducted are under one clinical specialty. According to a report published by Medicare Payment Policy in March 2019, titled 'Ambulatory Surgical Center Services,' in 2017, 60.00% of ASCs were a single specialty.

Higher overhead expenses for a bigger hospital system that provides more specialized services are the cause of this discrepancy. As the only facility frequently providing highly specialized care, larger hospital systems also have more negotiating power with insurance companies for higher payment rates.

Conclusion

Traditionally, surgical procedures were carried out in hospital settings, but there has been an increase in demand for ASCs, which perform many of these operations in an outpatient setting for less money and with better patient results.

The opportunity for more minimally invasive surgical procedures, real-time communication and collaboration between surgeons, physicians, and other healthcare providers, and shortened operating room preparation times are just a few of the benefits that ASCs have over traditional settings.

Interested to know more about the growing technologies in your industry vertical? Get the latest market studies and insights from BIS Research. Connect with us at hello@bisresearch.com to learn and understand more