One of the major concerns for governments globally today is the steadily rising carbon emissions and their damaging effects on the environment and human health. Each year, the urgency to find sustainable energy solutions is increasing among government authorities and business leaders across different industries.
According to the World Bank report, the energy sector contributes about 40% of global carbon dioxide (CO2) emissions. Despite constant attempts to reduce carbon emissions in some countries, global CO2 emissions have not changed significantly.
The good news is that with the help of technological breakthroughs such as artificial intelligence (AI) and machine learning (ML), the transition to green energy and reducing carbon emissions is moving forward.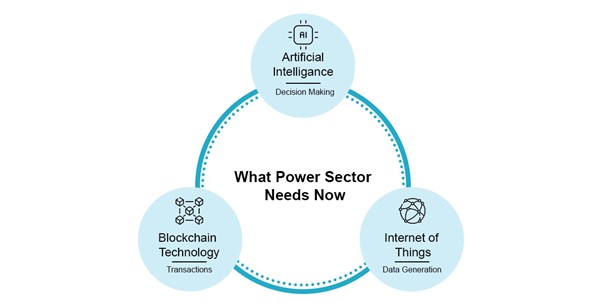 The development of digital technology and sophisticated analytics offer exceptional opportunities to switch to new energy technologies and monitor progress, forecast performance, integrate systems, ensure dependability, and enhance sustainability through unparalleled products, solutions, and service optimization.
Hence, the global energy sector has significantly transitioned due to the rapidly increasing demand for energy security and conservation. The development of sustainable distribution networks is actively being pursued with the help of AI applications in the energy sector.
How will AI Transform the Energy Sector?
Technologies like artificial intelligence are used to guarantee a steady supply of energy. AI technology utilizes hardware and software to consolidate the whole value chain into a single operating platform, addressing environmental issues and enhancing system performance.
Additionally, the long-term cost-effectiveness of AI is rapidly increasing the degree of acceptance among energy corporations. The energy sector demands real-time information access across remote locations. IoT-enabled sensor data, which provides amazing insight into the functioning of the process, is now helping to meet this demand.
AI enables systems to observe, comprehend, calculate, and analyze information similar to a human brain by using sophisticated algorithms and stacks of real-time data.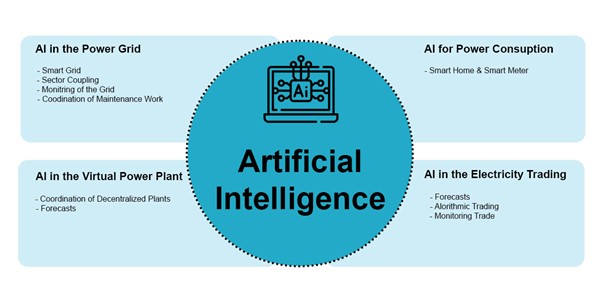 The technology enables decentralized communication and coordination by developing the AI infrastructure to allow businesses to connect with machines equipped with algorithms to work successfully.
Smart energy systems are the future of clean energy. Apart from AI, technologies such as ML and blockchain in the energy sector also significantly impact the shift toward sustainable energy.
Moreover, the rising demand for improved operational efficiency to meet energy requirements across the globe has propelled the need for increasing applications of AI in the energy sector.
According to the BIS Research market report, artificial intelligence in energy market is expected to progress at a healthy rate in the future, supported by the gradually growing affinity for consistent energy supply and increasing initiatives for the automation of oil fields.
Find more details on this report in this FREE sample
The surge of AI applications in the energy sector is sweeping the globe due to its numerous advantages. Here's a look at recent developments in the energy sector for sustainable energy solutions using digital technologies globally.
Role of AI and Analytics in Energy Efficiency to be Discussed at African Energy Week Event
The discussion at the African Energy Week, which will be held in Cape Town, South Africa, between October 18 and 21, 2022, will be on how AI and analytical technologies can improve the production, storage, transportation, and exploitation of hydrocarbons to eradicate energy poverty on the African continent by 2030.
This occurs when Africa is working to exploit its hydrocarbon reserves to combat rising energy poverty and fuel industrialization. Artificial intelligence and analytics technologies offer the continent a significant opportunity to accelerate the development of oil and gas resources.
Increasing AI and analytics across the upstream segment could help streamline drilling operations, revitalize the industry, and increase the continent's hydrocarbon reserves for energy security while saving project developers, operators, and owners time and resources.
Africa must digitally transform its oil and gas operations to meet its sustainability and energy access goals. By accelerating the adoption of AI and analytics tools, Africa's oil and gas sector is anticipated to create demand for digital tools and position Africa ahead of the digital revolution.
Oil Exploration Project in Vietnam Employs AI/ML
A member of the state-owned oil and gas company PetroVietnam, the Vietnam Petroleum Institute (VPI), uses artificial intelligence and machine learning to detect the presence of fractured granite basements. The technique reduces exploration time and expenses and has an accuracy rate of over 80%.
The outlook on conventional oil and gas exploration has changed because of the identification and productive exploitation of fractured granite basement reservoirs at Bach Ho (White Tiger) and other oil fields in Vietnam.
Traditional methods for identifying cracked granite basements require specialized equipment, which may necessitate stopping oil well drilling and extending the rig rental period (the current rate is roughly $65,000–$68,000 per day).
The VPI has developed a fracture prediction solution that uses AI and ML to precisely detect the presence of fracture systems based on real-time data to optimize this process. Relevant data will be fed into machine learning algorithms, and the best models for predicting fractures will then be categorized, rated, and evaluated.
A forecast accuracy rate of more than 80% was found when the VPI examined the model's performance using drilling data from 12 wells in some fields with comparable geological characteristics.
The next phase in PetroVietnam's digital transformation strategy's implementation is the deployment of AI/ML in oil and gas exploration. To collect, display, and analyze specialized data regarding crude oil, gasoline, liquefied petroleum gas, and natural gas, the VPI built an Oil gas AI system in July.
It provided solutions that would aid companies in developing long-term goals and strategies and help them make decisions more quickly and effectively throughout everyday operations.
PetroVietnam has been creating and improving appropriate and efficient solutions in coordination with socio-political organizations to encourage digital transformation within its subsidiaries.
PetroVietnam stated in a resolution on digital transformation to 2025 with a vision to 2030 that it saw digital transformation as essential to boosting production, quality, efficiency, and competitiveness.
Conclusion
AI technology can direct computers to carry out various jobs with the necessary thinking ability without human intervention, which aids in boosting operational efficiency for new business models.
Additionally, AI has the potential to lower operational costs and boost productivity in a variety of industries, including oil and gas and power.
Hence, to eliminate electricity distribution losses, raise production, lengthen active rig time, study subsurface geology, improve well and pump designs, and lower electricity consumption, enterprises operating globally in the oil and gas and power industries are successfully utilizing AI technology.