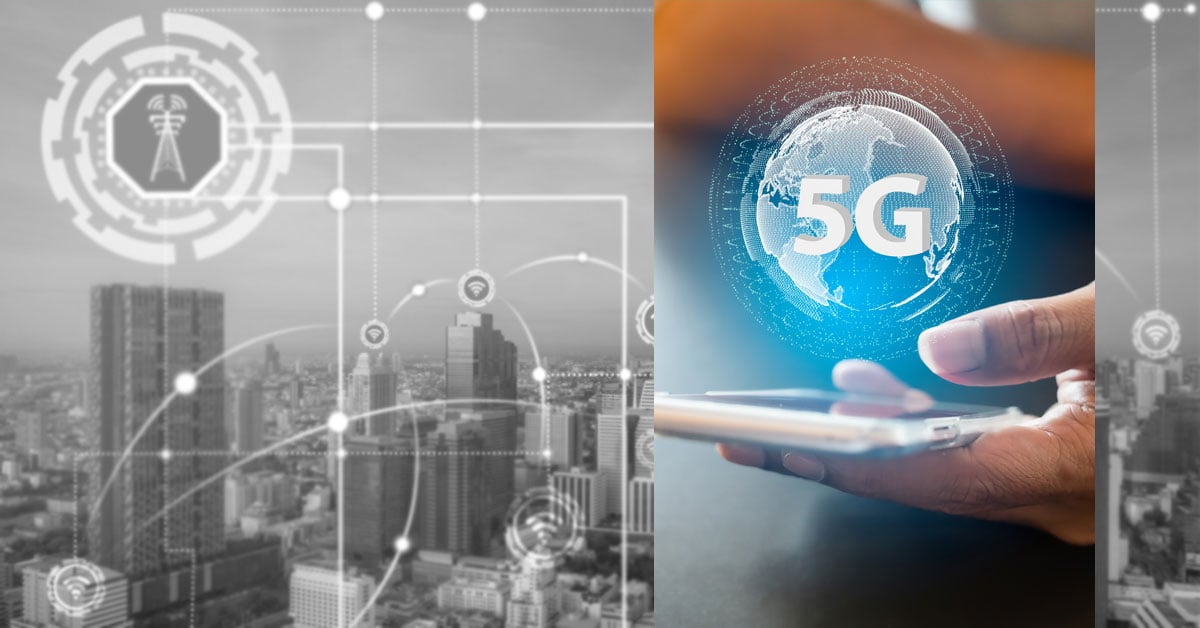 The idea for improved connectivity between people, things, applications, data, cities, and transport systems in smart networked communication environments has led to several ground-breaking innovations and research. In comparison to the 4G standard and radio technology, the fifth generation of mobile technologies or 5G goes way further than the 4G LTE standard in terms of higher capacity, speed, and ultralow latency. With a predicted 5G speed of up to 10 Gbps, newer networks are estimated to perform 100x faster than their predecessors.
Ranging from mobile phones to smart city sensors, the majority of the smart devices supporting 5G-enabled experiences were expected to be launched in 2020 or 2021. However, the unexpected rise of the COVID-19 pandemic has put tremendous pressure on healthcare systems and economies worldwide that have significantly affected the current connectivity trends. According to industry analysis, the total daily fixed broadband consumption per user in the United States has seen a rise of approximately 3 GB from January to this date.
With the rise in demand for the internet, several telecom providers are preparing to step up in the sector by expanding network, capacity, offering lower-cost wireless and broadband services, suspending surplus caps, and pledging to continue with services that have been impacted by the virus. Countries such as South Korea, the U.S., China, France, and Germany are amongst the frontrunners that have conducted 5G auctions and are aiming at enhancing its capabilities. Especially in the U.S., several providers have ramped up their deployments even during the uneventful novel coronavirus outbreak. Mentioned below are some examples of synergistic activities in the region since mid-March 2020:
Verizon has made fixed and mobile 5G services live in multiple areas, along with allocating $500 million to accelerate boost the company's transition to 5G and support the economy during this global disruption.
AT&T has offered mobile 5G services for customers in more than 100 metropolitan markets and is planning nationwide coverage by the end of 2020.
T-Mobile has launched commercial 5G services in around 5000 cities and towns and announced a $15 per month 5G plan as an outcome of its merger with Sprint.
Comcast has also rolled out its 5G services by signing an MVNO agreement with Verizon.
S. Cellular is offering 5G services in parts of Wisconsin and Iowa.
With its ability to support applications such as 3D video, smart homes, and buildings, remote medical services, smart cities, virtual and augmented reality, and large-scale machine-to-machine communications for industry automation, 5G technologies intend to accelerate the attainment of 17 Sustainable Development Goals (SDGs), ranging from affordability and clean energy to zero hunger.
Even during the tough times of COVID-19, 5G supported the war against the novel coronavirus by enabling the implementation of online diagnosis and treatment platforms, thereby reducing the rate of infection amongst the population vising healthcare centers. The technology was also utilized in disinfection and cleaning robots, cloud-based medical and nursing robots, temperature-taking patrol robots, and drug delivery robots, among others. Apart from the healthcare sector, other industries such as enterprise communications, education, manufacturing, and automobiles also experienced a transformation in catering to their customer base.
What lies ahead?
As the world experiences massive disruptions in work, social activities, education, healthcare, and retail, the extensive applications of 5G technologies have addressed the gaps in this global transition to the "new normal." Although it is clear that 5G technologies hold huge potential for global businesses, there are certain barriers to be jumped before 5G can truly emerge as a vehicle for business innovation and growth. While we experience technology being embedded at every level of day-to-day lifestyle, this is beginning for universal adoption and acceptance of a whole new 5G world.