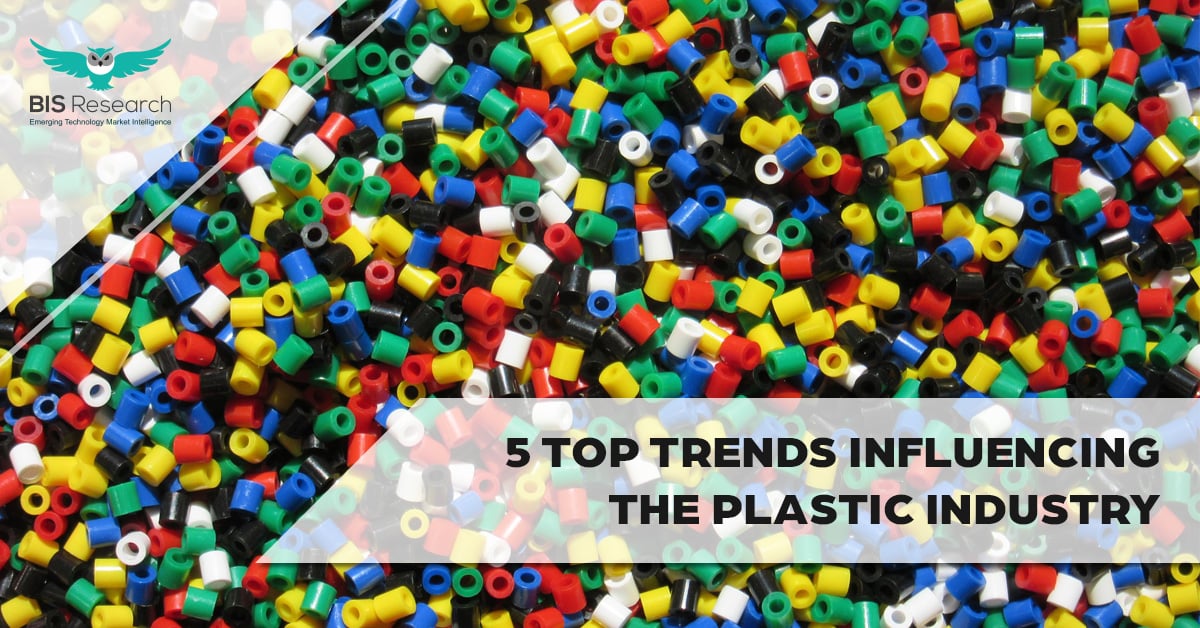 According to the World Bank, 242 million tonnes of plastic waste was generated in 2016. Also, as per an article published in 2018 by the National Geographic Society, over 90% of the world's plastic waste does not get recycled and ends up as trash and litter. With the production and application of plastics increasing exponentially each year, its recyclability and degradation occurring over a span of several hundreds of years, has propelled the need to develop plastics that can help reduce the present level of land pollution. In addition to sustainable development, there are several other trends that are influencing the plastic industry. The view point of BIS Research analyst as to how these trends are going to influence the market in the near future.
Quick Glance at Trends Influencing the Plastics Industry
1. How is the plastic industry shaping up in the light of manufacturing sustainable plastics?
With the focus on reducing the ever-increasing level of non-degradable plastic waste in our landfills, several advancements are being made to manufacture sustainable plastics. Two major categories included in sustainable plastics are bioplastics and recyclable plastics.
Bioplastics: These plastics are manufactured with natural resources either in part or whole, unlike the traditional plastics that are manufactured from petroleum-based polymers. These types of plastics can be used for packaging products and other items such as containers, straws, bags and bottles, and in non-disposable carpet, plastic piping, phone casings, 3D printing, car insulation, and medical implants. Polylactic acid (PLA) and polyethylene furanoate (PEF) are among the popular bioplastics that are finding widespread application in 3D printing and packaging, respectively.
Recyclable Plastics: These plastics are reprocessed from the scrap and waste plastic recovered from across the world. Since most of the traditional plastic manufactured is non-biodegradable, recycling of plastics can help reduce the existing waste polluting the land and water sources globally. At present, approximately 8 million tonnes of plastic enter the ocean bodies each year and disrupt the marine ecosystem. Plastic is causing a threat to food security globally. The practice of using recyclable plastic is being driven by leading plastic manufacturers, who have collaborated with recycling companies to promote plastic recycling.
2. What is the role of plastics in the future of mobility?
The technological upgradations occurring in the mobility industry has created a demand for different types of advanced materials, such as plastics and polymers. This has propelled innovation and a constant push to develop plastic materials that are highly robust, durable, and have excellent resistant properties. Further, with the automotive industry is moving toward an era of electric vehicles, wherein materials such as polycarbonate plastics are proving as a key material for the upcoming 'e-mobility' market, with applications such as safety and security, engine components, and interiors. Weight reduction is a key to the success of not only electric vehicles but also the new age conventionally fuelled vehicles. PP-compounds are the most widely used plastics in the automotive industry, their application has been increasing, and the electric vehicle revolution is expected to further propel its adoption.
3. Given the role of 3D printing in industry 4.0, what are the opportunities for plastic manufacturers?
The implementation of 3D printing technology across different industries has resulted in a better outcome, as this technology has several benefits. The companies present in the automotive and large manufacturing are expected to experience significant cost savings with the implementation of 3D printing technology. Since high-grade plastic is the choice of material for 3D printing technology, their demand is likely to go up in the future. This creates multiple opportunities for plastic manufacturers to develop plastics for applications across end-use industries, including consumer goods defense equipment manufacturers, and healthcare.
The industry 4.0 revolution is expected to drive the large-scale adoption of 3D printing technology, especially in the manufacturing industry. The development of high-performance, sustainable materials is at the core of this technology. Plastic materials have been the key enablers of 3D printing technology. 3D printable bioplastics such as polylactic acid (PLA) as well as high performing plastics such as polyamide (PA) powder are fastgrowing markets in this area.
4. How has the market progressed in terms of the adoption of high-performance plastics such as PEEK?
The market for high-performance plastics has been fast-growing but is still niche. Industries, where sophisticated manufacturing and superior performance are significantly important than the final cost, have been the key adopters of high-performance plastics such as PEEK.
The 3D printing industry, which received initial adopters in high-end applications, has been a key area where high-performance plastics have been used. The incorporation of high-performance polymers has significantly helped companies across several industries to deal with issues pertaining to system downsizing, weight reduction, performance maximization, and regulatory compliance, among others. The massive-scale incorporation of high-performance materials into the automotive and aerospace industries has considerably expanded the scope of applications of high-performance materials in several other industries such as oil and gas, consumer electronics, manufacturing, and healthcare.
The healthcare industry has been a major growth driver for the PEEK material market. The use of pure PEEK resin or compounded PEEK in implants, medical devices, and pharmaceutical and life science industries have been key growth areas in the healthcare industry.
5. As the demand for compounded plastics increases, how lucrative according to you, is the masterbatch business?
The market for compounded plastics has been on the rise. Compounded plastics offer a cost-effective solution with superior performance qualities to the material requirements across different industries. Based on the pointers about the PP-compound and PEEK-compound in the previous questions, the market for these materials as well as other polymer compounds is fast growing.
The masterbatch business is integral to the compounded plastics market. Masterbatches solve multiple purposes right from imparting color to plastics to imparting necessary properties such as microbial resistance, UV protection, and flame retardance. The increasing adoption of plastic compounds in various industries such as consumer goods, automotive, electrical and electronics, construction, and packaging has led to an increased market need for masterbatches.
The masterbatch business is deemed highly profitable. The lucrative business has been in the sights of major plastic compounders as well. A. Schulman, a leading compounder as well as a masterbatch manufacturer, was acquired by LyondellBasell Industries N.V. in August 2018. On similar lines, Polyone Corporation signed a definitive agreement to acquire the masterbatch business of Clariant AG in December 2019. Developing masterbatches that are specific to applications and help in making the plastics industry more sustainable are the key growth drivers in the market. Cabot Corporation's recent launch (in October 2019) of a masterbatch formulation that promotes the circular economy of plastics can be seen as a step taken in the right direction.
About the Analyst
Ajeya Saxena, Lead Analyst – BIS Research
Ajeya has an exemplary track record of recommending business solutions to conglomerates and start-ups across the electric vehicle and automotive industry. He is skilled at evaluating the potential of emerging markets and development of predictive market engineering models augmented by real-time market-specific insights.