In an attempt to tackle the challenge of climate change, global leadership is actively promoting the research, development, and utilization of alternative sustainable fuels. Currently, green hydrogen, in contrast to other synthetic green fuels, is considered as a key enabler of clean energy transition. It has the exceptional quality of being the sole clean energy molecule that can be produced at any scale and in almost every region on Earth.
Thus, green hydrogen production may enable virtually any organization or country to manufacture its own fuels, with the flexibility for a range of end uses, including usage for oil and gas, industrial feedstock, transportation, and power generation.
Hydrogen serves as an energy carrier in a variety of applications, such as oil and gas, industrial feedstock, transportation, and power generation. However, its current usage is extremely constrained due to its heavy dependency on fossil fuels for the manufacturing process. At the moment, natural gas and coal together make up around 99% of hydrogen output. Only less than 1% of the world's hydrogen is produced by sustainable procedures such as electrolysis, which in turn makes it a green hydrogen fuel.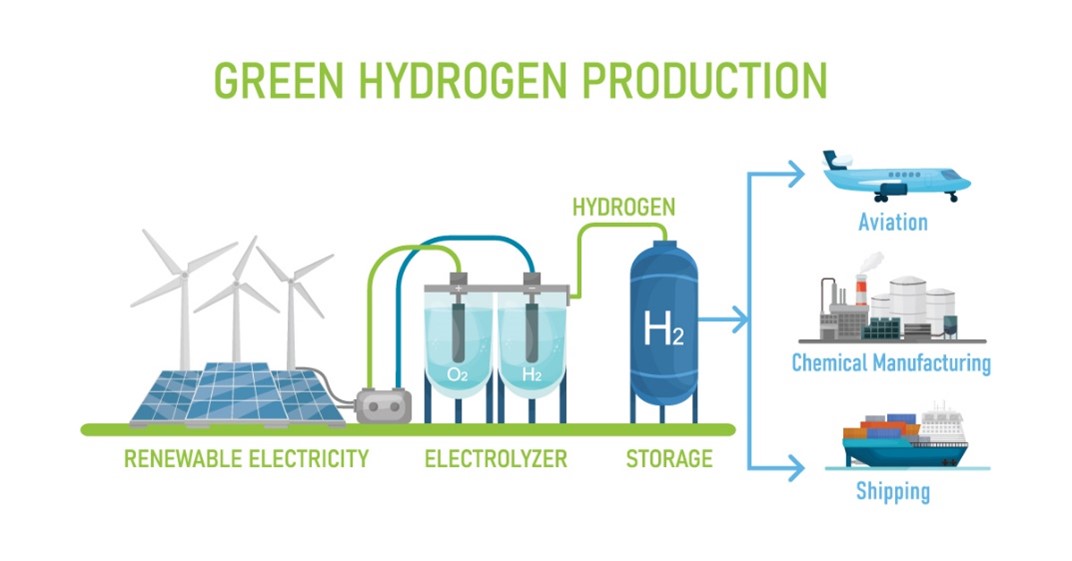 Currently, the most common ways to produce hydrogen are by gasification and reforming of natural gas, with most of these processes taking place in China. Together, these activities produce between 96% to 99% of the hydrogen used in the world.
Despite the potential of green hydrogen as a next generation fuel alternative, fossil fuels are still used to produce hydrogen today due to their plentiful supply and easy access. Major advancements are required to decarbonize the current process and scale up green hydrogen production globally.
As a result, numerous government programs and policies are being pushed globally to encourage and support green hydrogen production, which is significantly boosting the global market for green hydrogen.
According to the BIS Research report, the global green hydrogen market was valued at $227.7 million in 2021 and is projected to reach $108.64 billion by 2031, registering a CAGR of 68.9% between 2022 and 2031 in terms of value.
Find more details on this report in this FREE sample
Further in the article, crucial government policies that are aiming to push green hydrogen production in the coming years are discussed further in detail.
List of Crucial Policies Impacting the Future of Green Hydrogen Production
In the coming years, a wave of government subsidy programs will go into effect that will essentially guarantee profitability for sustainable green hydrogen fuel projects, which will, in turn, require enormous amounts of clean power to operate. This will turn the widely discussed green hydrogen technology into a large-scale reality.
U.S. Inflation Reduction Act - A Great Boost for Green Hydrogen Production
The Inflation Reduction Act (IRA), which combines a wide range of renewable energy tax incentives into a single law, was passed by the U.S. Congress in the summer of 2022. Over the next ten years, the U.S. government has committed to spending $369 billion under this new law to address energy security and climate change. A valuable package of tax credits that are part of the IRA is essential because they will hasten the adoption of green hydrogen technology and other clean energy sources. Some automakers have also entered the green hydrogen market as a result of this financial backing, with some even planning to expand the production of green hydrogen fuel vehicles and develop new infrastructure.
Due to its potential to decarbonize transportation, including road, aviation, and shipping, green hydrogen fuel created from renewable electricity has received much interest. However, the cost is a key obstacle to its adoption.
The IRA has added additional rules for green hydrogen production and increased tax credits for renewable electricity. According to the act, for the first ten years of operation, 2023 will see production tax credits for green hydrogen technology and renewable power plants of up to $3 per kilogram of hydrogen and 2.6 cents per kWh, respectively (their lifetimes are typically up to 30 years). The tax breaks, however, are only in effect until 2032, meaning that projects beginning in 2023 would receive all of the 10 years' worth of credits, while plants beginning later would receive progressively less.
For green hydrogen fuel manufacturers, the IRA's provisions are beneficial for a number of reasons. First, both tax credits are available to manufacturers of green hydrogen production from renewable electricity. In addition, for the first five years of operation, the hydrogen tax credit is "direct pay," allowing green hydrogen producers to request a tax return equivalent to the amount of their tax credits. Furthermore, tax "transferability," which is the ability of producers with no tax liability to sell their tax credits to a buyer with tax liability, can be advantageous for both producers of green hydrogen fuel and renewable power.
The IRA is putting out a positive message on the wide adoption of green hydrogen fuel. For plants that utilize the entire set of tax credits going online this year, the tax credits offered in the IRA can reduce the cost of green hydrogen production by half.
The U.S. is still a long way from having a green hydrogen economy, and even with tax credits, green hydrogen technology is not a panacea for all problems. Green hydrogen fuel probably makes the most financial sense for end-user industries that are difficult to directly electrify, such as industrial usage, long-haul aviation, and shipping, due to its high prices and conversion losses.
EU's Carbon Contracts for Difference Aiming to Subsidise Green Hydrogen Fuel
In May 2022, the European Commission declared that it would use funds from its Innovation Fund to implement Carbon Contracts for Difference (CCfD) subsidies for green hydrogen fuel. This move was made in order to "support a full switch of the existing hydrogen production in industrial processes from natural gas to renewables and the transition to green hydrogen production processes in new industrial sectors such as steel-making."
This is intended to assist in achieving the European Union's (EU's) goal of producing ten million tonnes of green hydrogen fuel per year within the EU by 2030 and importing an additional ten million tonnes by that time.
Governments would compensate end users (as opposed to producers) with a fixed sum for reducing carbon dioxide (CO2) emissions. The savings from forgoing the payment of a carbon price under the EU's Emissions Trading System (ETS) would be added to a top-up subsidy to bring the "strike price" established in the CCfD to fruition.
Since the amount actually paid by governments would depend on the variable ETS carbon price, if it rose above the strike price, end users would be responsible for paying the difference.
The European Parliament's decision against the European Commission's proposal for hourly verification of dedicated renewable energy supply to electrolyzers caused the publication of the green hydrogen scheme's final details, which were scheduled to be released in 2021, but got postponed.
It was widely anticipated that a new compromise draught proposal, which would allow quarterly matching of dedicated renewable energy supply to green hydrogen production until 2028 before switching to hour-by-hour correlation, would be formally published, but the year ended with no news on the subject.
The 27 member states and the European Parliament would still need to formally approve this proposed regulation, but the European Commission is eager to implement the CCfD program as soon as possible to give the European Union a chance to meet its goal of producing ten million tonnes of green hydrogen fuel annually by 2030.
It is anticipated that the regulations will also apply to green hydrogen imported into the EU. In addition to all of this, the EU-authorized member states will provide subsidies for 3.5 gigawatts (GW) of new electrolysis capacity under the Hy2Use initiative in September 2023.
Germany's H2Global Encouraging Green Hydrogen Technology
The most advanced of all the programs is Germany's multibillion-dollar H2Global green hydrogen subsidy program, which is only available for hydrogen and derivatives imported into the EU. However, manufacturers are not anticipated to receive financing until 2024 at the earliest.
The German government announced two tenders for imported green hydrogen fuel derivatives in December 2022. One contract was for green ammonia, and the other was for green methanol and sustainable aviation fuels based on hydrogen.
A special purpose company owned by the German government by the name of the Hydrogen Intermediary Network Company (HintCo) is set to purchase green hydrogen or its derivatives from international producers via ten-year Hydrogen Purchase Agreements (HPAs) and then sell it to European customers who will bid for short-term supply contracts via separate tenders. This process is known as the unique double-auction scheme used by H2Global.
The best bids will receive the supply contracts, but if their offers fall short of the HPA's price, HintCo will use cash provided by the German government to make up the gap.
H2Global will offer international green hydrogen producers the long-term pricing and demand certainty they want to develop their projects while also assuring a supply for European clients, as the commercial risk will be handled by HintCo.
Olaf Scholz, the German chancellor, has already approved a total of $4.24 billion in funding for H2Global, but the EU has only approved the initial $900 million tranche. The HPA auctions will be finished by the government by the middle of 2023, while the supply auctions will not start until 2024-2025.
U.K.'s CfD Scheme Funding Green Hydrogen Production
The U.K. stated in April 2022 that a Contracts for Difference (CfD) subsidy program for green hydrogen production would be completed by the end of 2022, and in July, it encouraged green hydrogen manufacturers to register "expressions of interest" in the scheme – the first step in the application process.
The government pledged to provide funding for up to 1GW of green hydrogen projects, all of which would be up and running by 2025. This funding would be distributed "through two allocation rounds in 2023 (starting in 2022) and 2024 (starting in 2023)." Around 250MW of projects would be supported in the initial funding round, it was stated.
The CfD program has not been finalized, though, probably as a result of the fact that Britain has had three successive Conservative prime ministers in charge.
The difference between a "strike price," indicating the cost of producing hydrogen, and a "reference price," reflecting the market value of hydrogen, will be represented by the subsidy offered by the hydrogen CfD, according to government explanations provided in April 2022.
In essence, this would make grey hydrogen produced from fossil gas, which is currently burning unchecked, equally expensive to the market as green hydrogen.
Green hydrogen continues to be a top priority for the U.K. government. According to an updated national hydrogen strategy, Westminster intends to "deliver final grant offer letters in early 2023" to selected green hydrogen producers who have submitted expressions of interest.
It was announced in December 2022 that a market engagement exercise on a second funding round for renewable H2 would begin in the second quarter of 2023. As part of its effort to build 5 GW of clean H2 by 2030 and 25 GW by 2045, the Scottish government has also introduced its own $112 million Green Hydrogen Fund and announced that it would launch a "call for proposals" for renewable H2 projects in early 2023.
However, specifics of how the funds would be distributed have not yet been made public.
Conclusion
The development of global "net zero" carbon emission objectives has been one of the most noteworthy characteristics of climate policy, which is expected to favor the growth of the green hydrogen market that will eventually lead to large-scale green hydrogen production. Europe, the U.K., China, South Korea, Japan, Canada, South Africa, and the U.S. have all adopted these objectives with great ambitions.
Interested to know more about the growing technologies in your industry vertical? Get the latest market studies and insights from BIS Research. Connect with us at hello@bisresearch.com to learn and understand more.