Agriculture has a rich history; this sector has been a key driver of the economy and has served as the chief source of income and livelihood for a majority of rural households in developing countries. However, this sector is still far behind in technological advancements despite the mounting importance of agriculture.
Crop failures due to adverse weather conditions and uncontrolled pest issues have been the key contributors to this scenario.
Although to catch up with other progressive farmers around the globe, farmers of most developing countries like India, Brazil, Bangladesh, China, etc. have been embracing new agriculture methods, advanced tools, and the latest farming equipment and vehicles.
Drones have been in potential use over time. Drones or unmanned aerial vehicles (UAVs) are bringing a revolution in the agriculture sector, increasing farming efficiency, and enhancing crop quality, lowering the overall expenditure. They can provide accurate field mapping, including elevation information that allows farmers to find irregularities in the field. Having information on field elevation is useful in determining drainage patterns and wet/dry spots, which allows for more efficient watering techniques.
Drones and the Agriculture Industry
With the frequent unexpected climate changes, farmers need a next-generation technology solution to meet various challenges they usually face. In such times, drones have come up as an extensive solution, being a crucial component encouraging smart farming, helping farmers improve crop quality, boosting production yield, preventing crop damage, and reaping other significant benefits.
Though the technology is still new to many companies, they are trying to get it easily available to needy farmers to increase efficiency in agricultural production. With the introduction of drones in agriculture, crop monitoring has also become simpler.
Moreover, smart crop monitoring technologies also help in reducing crop losses due to crop diseases and harsh climatic conditions, which aid the farmers in increasing crop quality and quantity.
In a recent report published by BIS Research, the global smart crop monitoring market was valued at $1.92 billion in 2021, which is expected to grow with a CAGR of 12.75% and reach $3.95 billion by 2027.
Increasing investment in smart agriculture is one of the major opportunities in the global smart crop monitoring market. The growth in this market is expected to be driven by increasing demand for food and the growing need for precision, digital, and smart agriculture practices.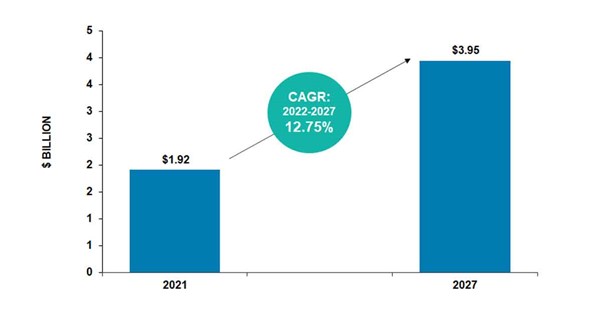 To get a free sample report, click here.
Drone Technology in Developing and Under-Developed Countries
Considering the real-life scenarios, drone-based agricultural projects have evolved in many countries in recent times.
The basic requirement in the field of agriculture, such as labor, seeds, fertilizers, and pesticides, are not available timely to many farmers and has resulted in less production.
Many Asian countries that are in developing stages are confronted with the issue of a high populace, and their agrarian efficiency is much lower when compared with technologically advanced nations. This is due to low-level agriculture technology, lesser power availability, unskilled farmers, etc.
The utilization of drones in agriculture is a suitable solution to overcome these difficulties. Utilizing proper information collected by drones, agronomists, rural specialists, and farmers may improve their activities to increase yields. Drone usage could be conditional, yet it is a revolutionary step.
Use of Drone Technology in Agriculture
Agricultural drones can be excellent support for all the small- and medium-scale farmers who do not have the required financial resources to afford expensive tools, machines, or labor. Following are the advantages of drone technology in agriculture:
Soil and Land Analysis: By mounting sensors to evaluate moisture content in the soil, terrain conditions, soil conditions, soil erosion, nutrient content, and fertility of the soil, drones can be highly efficient for field planning.
Plantation: Crop plantation, which was considered a manly procedure, can be easily handled by drones saving labor and fuel and even preventing harmful gases excreted by tractors and other conventional farming tools.
Livestock Management: Drones have sensors with high-resolution cameras that can be used to manage huge livestock. With the help of drones, one can easily detect a sick animal and act accordingly.
Crop Spraying: Drones have storage filled with fertilizers and pesticides for crop spraying. This can help not only spray faster but also keep away from chemicals that might be harmful to skin, lungs, and overall health.
Avoid Overuse of Chemicals: Pesticides, insecticides, and other chemicals are indeed helpful in crop protection, but their over usage is quite harmful. Drones make it easy to spray chemicals in the field eventually. It can detect minute signs of pest attacks and provide accurate data regarding the degree and range of the attack where pesticides are needed.
Prepare for Weather Glitches: Climate is a farmer's best companion and worst enemy at the same time. In planning the harvesting process, drones play a vital role. It can be used to detect upcoming weather conditions like storms, heavy rain, lack of rain, etc., for farmers to plan their fieldwork accordingly and reduce crop disasters.
Crop Monitoring: Drones can help in effective crop surveillance by inspecting the field with infrared cameras based on their real-time information. Crop surveillance helps in understanding and planning for the next farming season; therefore, farmers can take active measures to improve the condition of plants in the field.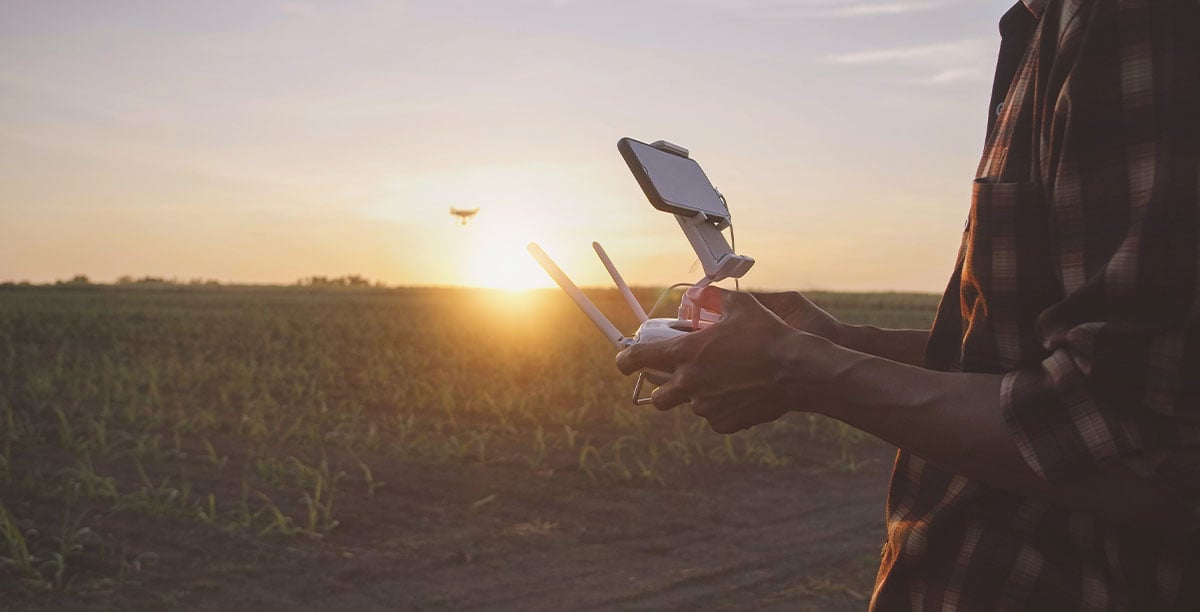 Conclusion
Farmers are the harbingers of change, and drone technology can be a humongous method to improve crop harvesting. Many rural farmer startups are also showing interest in the agriculture industry, aiming to invest in low-cost drones to encourage employment opportunities for the rural youth and enhance the knowledge of farmers as well.
Interested to know more about the developing technologies in your industry vertical? Get the latest market studies and insights from BIS Research. Connect with us at hello@bisresearch.com to learn and understand more.