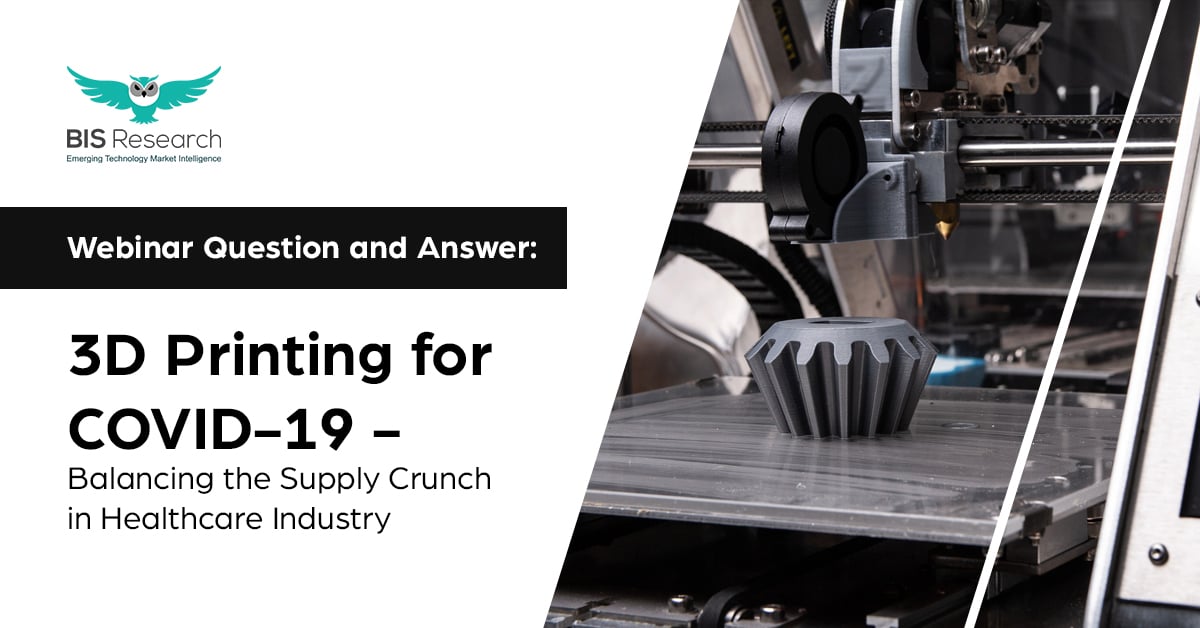 BIS Research conducted a webinar on 3D Printing for COVID-19: Balancing the Supply Crunch in Healthcare Industry for understanding the role of 3D printing in eliminating the existing demand-supply crunch for essential equipment (masks and ventilators, among others) to combat COVID-19, on Thursday, April 16, 2020.
During the webinar, significant insights were shared related to current progress and opportunities that are significant in eliminating the current bottlenecks faced by the 3D printing industry along with the prerequisites to commercialize 3D printing at a mass-scale across regions.
During the webinar, several questions were raised by the participants, and live responses were shared by the speakers – Michael Tuckey from New Forge Engineering Pty Ltd. and Kelvin Wee, from Materialise NV – for many of questions. The responses for the rest of the questions, that were posted but could not be addressed live, have been addressed and presented here:
Q A new food-grade nylon printed part has been shown, can we know for which machine are they used for it?
The machine used for the food-grade nylon is the Markforged Mk2. The material is the Markforged Nylon White.
Q As an immediate solution, can the medical bodies list out the technologies or printers which are qualified to print medical quality parts?
The manufacturers of the materials often list what standards the materials meet, if any. As far as manufacturing for the medical industry in Australia(cannot comment regarding the data of other countries), the company carrying out the manufacturing must have been assessed and have been granted a specific license to manufacture goods for the medical industry.
Q As per a news report, t 3D Printing the Y Splitters is an infringement of IP, is it true? What if the concept is already patented or copyrighted, can we violate those IP and print, in case of health aid or patient-centric urgency?
I am not well-versed in intellectual property laws. However, I would be surprised if someone were to have an enforceable patent on a simple Y splitter. In the event of an emergency situation like those faced in COVID-19, I believe the potential benefit of printing such parts far outweighs the potential risks.
Q Can 3D printing be used for customized mass manufacturing? How will that help the medical industry?
3D Printing can definitely be used in customized mass manufacturing. At Materialise, we do a lot of such projects. If we look at the current situation, 3D printing has shown that it can help all industries, whether it is medical or industry. The application of 3D Printing is seen more today for the development of door handles, connectors, and printing of ventilator parts. Hence, we should see people in different industries adopting 3D Printing and start to design for 3D Printing.
Q Pandemic is an emergency situation, and the demand being higher than supply, how essential are certification and FDA clearances for all Printed products? Even if the materials are bio-compatible, how can we be sure that the printing process is as per FDA guidelines?
Certification and FDA is clearance, and this is something that should not be taken lightly. It is important to ensure that a part that is printed has a certain quality and can be replicated. Otherwise, it can jeopardize the reliability of the equipment that is used.
As such, certification like 13485 and getting processes certified by FDA is important. At Materialise, not only do we have both of the above, but we also make use of our 30 years of knowledge in AM, software, and processes to ensure that the parts we produce are of quality and that they have undergone stringent processes.
Q How sustainable is the usage of PLA and other printing materials such as ABS and Polyethylene terephthalate glycol-modified (PETG) in traditional hospital sterilization systems? Is there an optimal 3D-printed material for sterilization?
The sustainability of 3D printing materials for medical applications highly depends on the sterilization techniques that are currently being used. Materials such as Polylactic Acid (PLA) and Polyethylene Terephthalate Glycol (PETG) are sensitive to the thermal steam sterilization technique and tend to get deformed at high temperatures. In fact, the European Union does not approve of the thermal sterilization by dry heat.
Apart from this, there are other techniques of sterilization that have their own drawbacks. For example, radiation sterilization, which is widely utilized in food and medical device industries, is not appropriate for usage in hospitals. With regards to 3D printed objects, the ethylene oxide sterilization technique should also be avoided, as it leads to molecular weight loss, along with the deposition of toxic substances on the surface. Moreover, the overall structure of the polymer is changed during the ethylene oxide sterilization process.
Hence, a suitable technique is the hydrogen peroxide sterilization. This process is conducted at a low temperature, with no toxic residues. This is a safe and effective process and does not require aeration time as opposed to the usage of ethylene oxide. Therefore, to summarize the answer, materials such as PLA, PETG, and ABS are sustainable if they are sterilized using hydrogen peroxide chemical for the sterilization technique.
Further, there is no one specific material that would be optimal for sterilization. However, materials like PLA are highly recommended. PLA is biodegradable as well as non-toxic and is widely used in medical applications, notably in soluble medical sutures.
Q Have patients been interviewed on how they feel about 3D-printed medical equipment? Does that make them feel safe or uneasy? Have patients commented on doctors about their 3D-printed/homemade PPE?
I have not been able to engage with any doctors or patients directly to have their review on 3D-printed equipment yet. However, based on the secondary sources, certain products such as face mask buckles have been found to be very comfortable for the doctors. Also, the overall adoption of 3D-printed products such as face masks, face shields, and valves has been overwhelming by the medical industry. However, this does not hold true for complex medical equipment such as ventilators, and some reviews regarding the inaccuracy of face masks in terms of size and seal have also been noted.
For those who missed the webinar - Click here to watch it