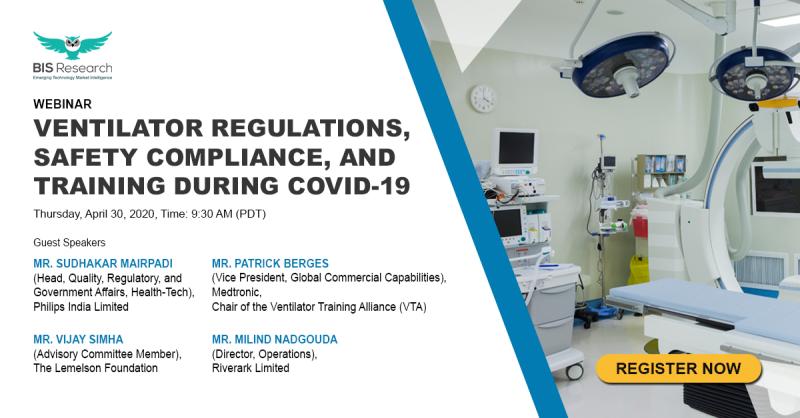 The COVID-19 pandemic has impacted the global population severely. According to the World Health Organization, COVID-19 will cause severe respiratory illness requiring ventilation in approximately 5% of cases globally. The gap between the supply of mechanical ventilators and their global demand is steadily increasing despite various measures taken by governments and corporates across nations. To overcome the demand-supply gap, a diverse range of industry players – from automotive, drones, and defense companies, are prototyping and modifying their supply chain for ventilator production.
However, the rush to quickly produce new types of ventilators is expected to face regulatory challenges. The non-traditional manufacturers do not have licenses to manufacture medical devices, and it generally takes from several months to years for a newly designed ventilator to meet regulatory criteria before they can be used for patients. In addition, as existing and new manufacturers of medical devices are also innovating to develop next-generation ventilator prototypes, regulatory systems are bound to be overburdened.
In order to help new and existing industry players gauge the current regulatory landscape and understand the major regulatory amendments that can potentially impact the global ventilator market, BIS Research is conducting a free webinar, Ventilator Regulations, Safety Compliance, and Training During COVID-19 on Thursday, April 30 2020, at 9:30 AM (PDT) with guest speaker Mr. Sudhakar Mairpadi, Head - Quality, Regulatory, and Government Affairs, Philips India Limited; Mr. Vijay Simha, CEO, Audicor Cardiometrics Pvt. Ltd; Mr. Milind Nadgouda, Director, Operations, RiverArk Limited; and Mr. Patrick Berges, Vice President, Global Commercial Capabilities at Medtronic Plc.
Why Attend the Webinar?
To identify the regulatory scenario in different regions in the global ventilator market
To compare the different regulations of the pre-and post-COVID scenario in the global ventilator market
To determine the safety and compliance issues pertaining to the ventilators due to the COVID-19 pandemic
To determine how existing companies or the new entrants in the ventilator market would leverage the changes in the regulation to boost production to meet the demand in the market
To analyze how the current changes in the regulation are anticipated to affect the post-COVID ventilator market.
To analyze the need for training and better utilization of ventilators across different clinical settings.
Who Should Attend this Webinar?
Medical device companies
Automotive companies
Research and academic institutes
Manufacturing companies
Regulatory and policy makers
Venture capitalist firms
Attendees' Take Home
Live Q&A with Guest Speaker and BIS Research experts
Speakers Profile
Mr. Sudhakar Mairpadi, Head- Quality, Regulatory, and Government Affairs, Health-Tech, Philips India Limited.
Sudhakar Mairpadi is the Head of Quality, Regulatory, and Government Affairs, Health-Tech , for India and Indian subcontinent at Philips India Limited and is responsible for quality and regulatory function for India, Bangladesh, Sri Lanka, Nepal, and Bhutan for healthcare sector of Philips.
Sudhakar has previously worked with Medtronic India Pvt. Limited, and AstraZeneca Pharma India Limited as the Head of Regulatory and Quality Affairs and Regulatory Affairs Manager, respectively. Sudhakar was responsible for the quality and regulatory & government affairs for India and the Indian subcontinent in the esteemed organizations.
Sudhakar is a member of various technical committees and task forces under various Indian ministries, such as the Ministry of Health (MOH), Ministry of Consumer Affairs and Public Distribution, and AERB.
Sudhakar had completed M. Pharma, Pharmaceutical Chemistry from Bangalore University. Furthermore, he pursued PGDMA from Annamalai University and MBA from Indira Gandhi National Open University. Moreover, Sudhakar has completed various certifications from different organizations, such as Intertek (Lead Auditor Course), UL India Limited (Certification course), and British Standard Institute (Lead Auditor), Intertek.
Mr. Vijay Simha, CEO, Audicor Cardiometrics Pvt. Ltd.
Vijay Simha is the CEO at Audicor Cardiometrics Pvt Ltd. He is responsible for the development of novel technologies for early-stage screening of cardiac dysfunction as well as technologies for heart and hemodynamic monitoring in clinical management during congestive heart failure.
Vijay has worked in various organizations in different capacities. He has worked as CEO in OneBreath, Inc, as Chief Strategy Officer in BPL Ltd., and CEO (Europe and Americas), Unisantis SA. Furthermore, he has also worked as Director and General Manager for Makino India Pvt Ltd and as General Manager for Milipore Inc.
Vijay is the Chair for the Task Force on Innovation in Healthcare Technology under FICCI. Moreover, he is also an advisory committee member of The Lemelson Foundation. He is also an advisor of technologies and innovations for Waste Impact, a non-profit organization focused on recycling solid and e-waste.
Vijay has a Master of Science (MS) degree from the Birla Institute of Technology and Science. Furthermore, he completed his PDC in Physics from the University of Calicut.
Mr. Milind Nadgouda, Director-Operations, RiverArk Limited.
Milind Nadgouda is a seasoned quality and regulatory professional with 22 years of industry experience. He is the Director of Operations at RiverArk Limited, a Quality Consultancy providing services in GxP space.
His core areas of specialization are risk strategy (identification, assessment, rating, prevention, and mitigation), regulatory agency inspection readiness, and quality management system GAP analysis.
Milind has worked on different types of quality projects with methodologies such as Six Sigma: Kaizen and Lean. His expertise on quality strategy and regulatory compliance has been derived from hands-on, real-world experience.
Milind has been in the frontline during GxP inspections and has, on several occasions, been in the backroom supporting the team for inspections.
AstraZeneca, Bristol Myers Squibb, i3, and Eli Lilly are few of the companies Milind has worked at and consulted. He sees himself as a problem solver and a solution provider.
Mr. Patrick Berges, Vice President, Global Commercial Capabilities, Medtronic Plc, and Chair of Ventilator Training Alliance (VTA)
Pat Berges is the Chairman of the Ventilator Training Alliance (VTA), which includes every major ventilator manufacturer in the world. At Medtronic, Pat serves as Vice President of Global Commercial Capabilities, where his team aims to infuse growth through world-class training experiences. He has been with the company since 2003, working in a number of businesses and regions.
Pat has extensive experience in both developed and emerging markets, having worked in nearly 60 countries with the company. Pat was instrumental in expanding access to care in emerging countries across Europe, Africa, and the Middle East for Medtronic.
Prior to his current role, Pat spent 15 years as a Human Resource Business Partner, specializing in high-performance teams, talent development, and organizational culture. He is one of the founding members of Culture Circles, a program that has gained recognition for world-class organizational health results.
Pat was also the recipient of the 2017 Wallin Leadership Award, recognizing outstanding transformational leadership.
Pat is an ice hockey fanatic, happily married, a proud father of three kids and lives outside New York City.
Don't miss out on the opportunity and register for the complimentary webinar Ventilator Regulations, Safety Compliance, and Training During COVID-19, on Thursday, April 30 2020, at 9:30 AM (PDT)