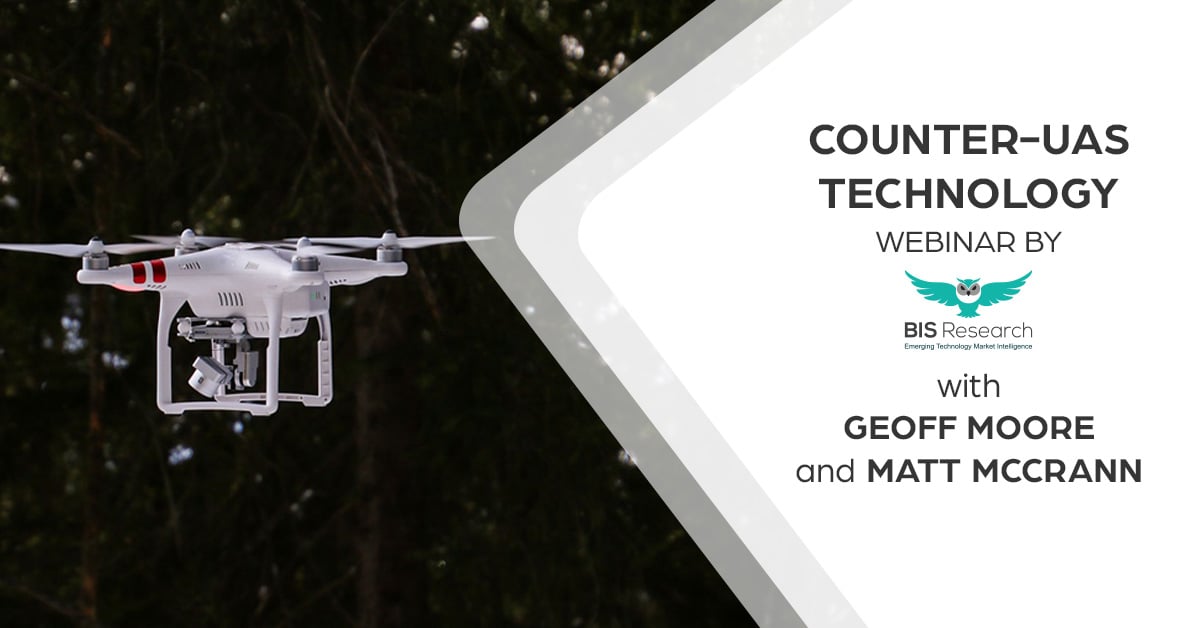 Unmanned aerial system industry is growing exponentially due to the low price and increasing applications of drones. These drones are currently being adopted for their various applications such as inspection of cargo, disaster management, photography, agriculture inspections, and emergency situations. With the increasing usage of drones, the possibility of them being used for malicious purposes is also increasing. This has resulted in the increase in demand for drone detection and neutralizing systems across different end users.
Counter-UAS technology has been analyzed as the next big opportunity for counter-UAV companies around the world. Key challenges in line with real-life implementation includes legal issues, selectivity and sensitivity of drone, and interdiction hazards. Airports, oil fields, sports arenas, and intellectual properties are some of the end users of the counter UAS technology and catering to the applications for each end user has huge potential for the market in future. Drones have endangered the lives of people and breached safety and security, which has eventually led to the development of counter-UAS technology, which is specifically designed to track and intercept drones posing a threat. As the number of drones are increasing, the occurrence of ill-use of technology by reprehensible entities is also rising, leading to the usage of counter-drone technology has become prevalent in the industry.
Currently counter-UAS technology is in the evolutionary stage, and regulations are expected to play a huge role in its adoption in the future. Various strategic partnerships are expected in the industry with the companies planning to grow both organically and inorganically. Counter-drone technology is already under extensive use ranging from base protection in the battlefield to protection of critical assets. The emerging need for counter-drone systems across airspace defense, maritime security, personal use over private property, and port security has further pushed the market growth. In the years to come, it is anticipated that innovation in product offering in terms of technology and opening of new avenues is expected to create a lucrative opportunity for the counter-UAS market.
To explore the present scenario of Counter-UAS industry landscape and determine the capabilities of its advancing technology and application in military, government and commercial space, join the webinar on "Counter-UAS Technology: Protecting Critical Assets from Drone Intrusions" on Wednesday, January 15, 2020 at 10:30 AM PDT. The guest speakers associated with the webinar are Geoff Moore, Blighter Surveillance Systems and Matt McCrann, Vice President, Sales DroneShield
Key Points to be Discussed in the Webinar
Analyzing the progress of counter-drone industry in present scenario and the dynamics that are propelling the industry
Comprehending the preference of technology in counter-UAS across different end users.
Learn more about the key emerging counter UAS technologies for military end user.
Understand the gains of deployment of Counter-UAV in different industries.
Understand the breakthrough developments occurring in the industry and their influence on the market.
Live Q&A with guest speakers
Who Should Attend this Webinar?
Counter-UAS providers
Regulatory Bodies and Private Companies
Component Manufacturers
Software Providers
System Integrators
Investors
End User (Companies)
Speaker Profile
Geoff Moore, Blighter Surveillance Systems Ltd.
Blighter Surveillance Systems, the U.K.'s leading manufacturer of E-Scan FMCW radar for wide area surveillance and drone detection
Moore is a thought leader and regular contributor to conferences and industry publications on counter drone technologies and infrastructure risk management, with real-world experience of solutions delivery throughout the U.K., Europe, the Middle East and Africa.
Matt McCrann, DroneSheild Ltd.
Matt has over 15 years of experience in the defense and national security sector with significant roles spanning sales, operations, and engineering.
He has the industry certifications and specialized training in RF and wireless communications and is a member of numerous industry and government organizations, including National Defense Industrial Association (NDIA), Armed Forces Communications and Electronics Association (AFCEA), Association of the United States Army (AUSA), and American Correctional Association (ACA).
Matt has also served in the United States Navy as an intelligence analyst and a member of NSA/CSS's cryptologic direct support element.
Don't miss out on the opportunity and register for the webinar "Counter-UAS Technology: Protecting Critical Assets from Drone Intrusions" on Wednesday, 15th January 2020 at 10:30 AM (PST)"